Gas Analyzers provide thermal conductivity measurement.
Press Release Summary: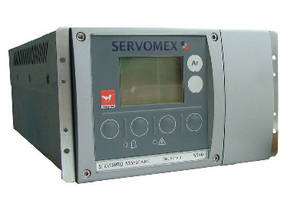 November 26, 2012 - Equipped with TruRef Thermo-Conductivity Detector technology, SERVOPRO MonoExact Analyzer provides measurements for helium and hydrogen, while SERVOPRO MultiExact Analyzer provides measurements for helium. TruRef technology co-locates reference and measure elements under isothermal conditions in sample gas to eliminate effects of changing sample conditions such as pressure and flow. Measurements for He in N2 and O2 range from 0-2% to 0-100%, and H2 in N2 measurements range from 0-1% to 0-100%.
Original Press Release
Servomex Launches Innovative New TCD Measurements for SERVOPRO MonoExact and MultiExact Analysers
Press release date: November 11, 2012
Crowborough, UK, – Following the successful launch of Servomex's revolutionary TruRef Thermo-Conductivity Detector (TCD) technology, Servomex is extending its TCD sensor range with new measurements for helium (He) and hydrogen (H2) in the SERVOPRO MonoExact analyser and He in the SERVOPRO MultiExact multigas analyser.

The world's first true TCD gas measurement, which for the first time makes a genuinely accurate thermal conductivity measurement of a gas, TruRef technology co-locates the reference and measure elements under isothermal conditions in the sample gas to eliminate the effects of changing sample conditions such as pressure and flow.

Fully enabled by the advanced performance capabilities of the SERVOPRO MonoExact and SERVOPRO MultiExact Servomex, TruRef technology already offers class leading measurements for argon (Ar) and nitrogen (N2) analysis. The new measurements deliver unrivalled TCD performance standards for H2 and He, particularly in terms of measurement accuracy, repeatability and drift - making them ideal for use in product purity and process control applications.

Measurements for He in N2 and He in O2 are available in measurement ranges from 0-2% to 0-100%, delivering a comprehensive analyser solution for He production processes and gas blending.  A measurement for 0-20% H2 in Ar enables a new level of performance for hydro-argon applications in ASU production, where monitoring the H2 excess determines the conversion efficiency in removing O2 from Argon product after the air separation process. 

Finally an H2 in N2 measurement will be available in ranges between 0-1% to 0-100%, enabling more efficient and accurate performance for a range of applications including H2 production, monitoring of H2 coolant in turbine generators and in the production of iron and steel. 

"Servomex's development of TruRef technology has raised the industry standard by improving the accuracy and stability of the gas measurement and reducing ownership costs to the customer," says Charles Segar, Product Business Manager. "These exciting new TCD measurements further extend Servomex's leading position in industrial gas analysis by taking the company into new markets and applications."

The launch of the new TCD measurements makes the SERVOPRO MonoExact and MultiExact even more effective as value-adding gas analysis solutions for a range of industries and applications. In addition to utilising a range of Servomex's sensing technologies, the MonoExact and MultiExact offer advanced features and options that include concentration alarms, auto-validation and auto-calibration, digital communications (Profibus, Modbus or Ethernet), integrated valve block, flow alarm and flow-meters.

For more information about the new TCD measurements available for the SERVOPRO MultiExact and SERVOPRO MonoExact, contact the Servomex European Business Centre (+31 (0) 79 330 1581 / 00800 737866390 / Toll free in France, Holland, Germany, Belgium and the UK) Americas Business Center (+1 281 295 5800) or Asia Pacific Business Centre (+86 (0)21 6489 7570).

About Servomex Group Ltd
As the world expert in gas analysis, Servomex has established itself as the leading provider of reliable, accurate and stable gas measurement solutions to industries across the globe.

An acknowledged innovator in gas analysis technologies for more than 60 years, Servomex is the originator of and world leader in paramagnetic sensing technology and has an exceptional reputation in the development of zirconia, laser (TDL), gas chromatography, FID, coulometric, photometric and thick film technologies. With a leading edge in R&D and manufacturing maintained by two Technical Centres based in Crowborough, UK and Boston, Massachusetts, the  result is high-performance, cost-effective gas analysis, delivered through a portfolio of dependable products ranging from portable gas analysers to complex process solutions.

Servomex's commitment to providing a complete industry solution to gas analysis extends across our business, with our Hummingbird Sensing Technology brand delivering our sensor technology to OEM partners and the recently-acquired Delta F Corporation extending our product offering through high quality oxygen and moisture analysis technologies.

Servomex is committed to providing excellence in customer service, offering full sales and service support through global business centres based in Houston, Texas; Mumbai, India; São Paulo, Brazil; Shanghai, China; Sharjah Dubai, United Arab Emirates; and Zoetermeer, Netherlands; By combining global expertise with local support, Servomex delivers a complete package of product and service that ensures customers improve output quality, maintain plant and process safety and meet legislative requirements.

Servomex is part of Spectris plc, a leading supplier of instrumentation and controls to global markets.