Fume Extractor features mobile design for occasional use.
Press Release Summary: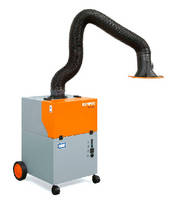 March 31, 2014 - Specifically designed for low amounts of dust, Smart Master features rotatable and swiveling exhaust hood that enables use in 360° radius. W3 approval make welding fume filter system suitable for welding chrome, nickel, and steel. Instead of exhaust arm, SmartMaster can also be connected by hose below welding table, so that suction of smoke particles is carried out directly at source. Three-stage disposable filter ensures clean air when welding with maximum suction capacity of 950 m³/h.
Original Press Release
With the Smart Master, KEMPER Offers a Reasonably Priced Entry into Extraction Technology
Press release date: March 24, 2014
Mobile basic unit for occasional use
Turning and swivelling exhaust hood
Cost-effective solution for the metalworking industry
Vreden, - With the Smart Master, KEMPER GmbH now offers as of now a welding fume filter unit for less than 1000 euros. Compared to the large KEMPER filtration systems for the industry, the mobile suction extractor is specifically designed for the occasional use and low amounts of dust. The pioneer and technological leader in welding smoke extraction now also allows small companies to enter into the extraction technology.
"Our goal was to complete our portfolio and offer the best solution for all applications – we have achieved that," says CEO Björn Kemper. With the SmartMaster, KEMPER addresses businesses with minor welding volume - for example in metal construction that do not want to sacrifice the protection of their employees through an extraction.
W3 approval allows work with chrome-nickel steel
A compact design and rotatable and swivelling exhaust hood enables use in a 360-degree radius. This leads to very few  adjustments during welding. The SmartMaster welding fume filter apparatus is suitable for welding chrome, nickel and steel due to its W3 approval. Hence the air is freed from carcinogenic substances such as nickel oxides or chromium compounds at more than 99 per cent. These substances are emitted during welding of stainless steel or other high-alloy metals. The purified air can be recycled to the work areas with a W3 certified extraction and filtration device only.
Three-stage filter with up to 950 m³/h suction output
The device can be adapted to the requirements of the workplace. Instead of the exhaust arm, the SmartMaster can also be connected by a hose below the welding table, so that the suction of the smoke particles is carried out directly at the source. The three-stage disposable filter of the welding fume filter device KEMPER SmartMaster ensures clean air when welding with a maximum suction capacity of 950 m³/h. The price of less than 1000 euros also allows small businesses to be able to purchase it and thus the entry into professional welding smoke extraction.
For further information:
www.kemper.eu
Contact for journalists and editorial offices:
KEMPER GmbH is a medium-sized family business based in the Westphalian town of Vreden. The company's product categories include the areas of extraction and filter technology as well as storage and automation technology. This also includes, among others, highly efficient filter systems which also filter ultra-fine dust particles from the air, extraction tables for cutting processes and a complete accessory line with regards to work safety and air pollution control for the metal-processing as well as the electrical and automotive industry. The manufacturer also makes sheet metal, long component as well as pallet and container storage systems as well as automation systems for loading and unloading, equipped with corresponding control and warehouse management software. In their products and services, KEMPER GmbH follows the guiding principle of sustainability, simplicity and innovation. KEMPER is the world market leader in extraction and filtration systems for the metalworking industry. The company was established in 1977 and currently employs around 300 employees. In addition to its headquarters in Vreden, KEMPER has production facilities in Lünen, Shanghai (China) and Prague (Czech Republic). Via eight offices and numerous solid trading partners, the company is represented worldwide.