Fume Extraction System captures fumes up to 5 ft away.
Press Release Summary: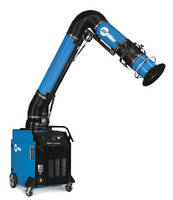 September 6, 2013 - Featuring ZoneFlow technology, FILTAIR® Capture 5 provides capture area up to 4 ft wide and 5 ft deep. Air enters arm at standard fume capture rate of 900 cfm, while technology moves clean, filtered air out of arm at 90° angle, creating negative pressure zone which funnels particulates toward center of arm to maximize fume capture. Rated 15–16 on MERV scale, FilTek XL filters capture up to 95% of all weld fume particulates. Automated pulsed cleaning cycle cleans filters after every shutdown.
Miller Electric Manufacturing, an ITW company - Appleton, WI
Original Press Release
New Miller Fume Extraction System Extends Fume Capture Area Over Three Times that of Conventional Technologies
Press release date: September 4, 2013
The new FILTAIR® Capture 5 fume extraction system captures fume up to 5 feet away, minimizing the need for welding operators to interact with the extraction arm and increasing arc-on time for greater productivity.
APPLETON, Wis.  — Miller Electric Mfg. Co. introduces the new FILTAIR® Capture 5 fume extraction system, designed to capture welding fumes up to 5 feet away from the source — over three times farther than conventional technologies. By increasing the fume capture area, the FILTAIR Capture 5 system improves safety and enhances productivity by decreasing downtime for welders to adjust the fume extraction arm, especially when welding long, continuous welds. 
The new system is especially well-suited to applications in heavy equipment manufacturing and general fabrication, as well as in maintenance and repair operations. It can accommodate fume from Stick, Flux-Cored, MIG and TIG welding processes.
Increased fume capture distance with ZoneFlow™ technology
The Capture 5 fume extraction system features the exclusive ZoneFlow technology from Miller. ZoneFlow technology creates a larger fume capture area than conventional systems — an area up to 4 feet wide and 5 feet deep, compared to an average of 18 inches (maximum) with conventional technologies. 
The ZoneFlow technology operates by way of a negative pressure zone that extends the weld fume particulate capture distance. Air enters the arm at a standard fume capture rate of around 900 cubic feet per minute (cfm), while the technology also moves clean, filtered air out of the arm at approximately a 90 degree angle. This action creates a negative pressure zone, which funnels the fume particulates toward the center of the arm to maximize the fume capture.
This extended fume capture helps maintain a clean breathing zone for the welder and helps keep the facility clean of fume particles. By increasing the distance of the fume capture, the Capture 5 system can also increase productivity by eliminating the need for the welder to reposition the extraction arm throughout the welding process. The welder can spend more time welding.
Cleaner air with FilTek® XL filters
Adding to the excellent fume extraction capabilities of the Capture 5 system are the FilTek XL filters it features. These filters are rated 15 to 16 on a MERV scale, whereas common industry filters rank between 7 and 11. This increased rating ensures that the filter is capable of capturing up to 95 percent of all weld fume particulates. The FilTek XL filters also offer the highest efficiencies and lowest pressure drops to increase capture abilities and lower operating costs.
An automated pulsed cleaning cycle cleans the filter after every shutdown to provide simple, hands-off maintenance operation. This cleaning mechanism also extends the filter life and maintains the best possible airflow. Fume particulates safely deposit in an internal disposal tray. 
General specifications and features
The Capture 5 fume system features an easy-to-operate, balanced extraction arm design with external adjustments. The design allows air to pass through with less resistance, creating stronger airflow. The easy arm movement also provides a full range of motion so welder can easily and accurately adjust it to gain optimal fume capture, and it stays in position when moved. All arm adjustments are toolless and can be made by hand.
A sturdy metal cabinet design can withstand the abuse of demanding manufacturing environments, while large rear wheels allow for easy movement from one work area to another. Lockable swivel casters help keep the system stationary while adjusting the fume extraction arm.
Other features include:
• Convenient air connection for dry compressed air supply
• 460 VAC, 3-phase receptacle (a 575 VAC receptacle feature will be available by end of 2013)
• Easy-to-read filter pressure gauge
• Hinged filter door with locking mechanism for easy access to the filter
About Miller
Miller Electric Mfg. Co., headquartered in Appleton, Wis., is a leading worldwide manufacturer of Miller brand arc welding products and is a wholly owned subsidiary of Illinois Tool Works Inc. (NYSE: ITW).
For more information, visit Miller's website at
www.MillerWelds.com
, call 1-800-4-A-Miller (800-426-4553), email
info@millerwelds.com
, fax 877-327-8132 or write to Miller Electric Mfg. Co., P.O. Box 100, Lithonia, GA 30058.