Product News: Sensors Monitors & Transducers
Full-Spectrum Sensor detects any change in appearance.
Press Release Summary: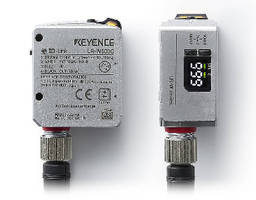 November 17, 2015 - Capable of analyzing full visible light spectrum, LR-W Series is suited for presence/absence applications as well as complex applications that must detect slightest differences in shade of color. Photoelectric sensor features 500 mm range and adjustable beam spot to ensure stable detection. Housed in IP65/IP67 rated enclosure, unit can be mounted wherever needed and can be calibrated with one-touch teach function.
Original Press Release
NEW Full-Spectrum Sensor, Detect ANY Change in Appearance!
Press release date: November 11, 2015
Product Overview
KEYENCE Corp. of America has just released one of its most impressive sensors to date. The LR-W series is a full-spectrum sensor designed to detect any change in appearance.
Detection Capabilities: The LR-W is capable of analyzing the full visible light spectrum. This technology allows you to handle countless applications with ease. Solve everything from simple presence/absence applications to complex applications that require you to detect the slightest differences in a shade of color.
Easy Calibration: The LR-W can be calibrated quickly with its simple one touch teach function. KEYENCE constantly strives to innovate while maintaining ease of use, and the LR-W is no exception. Its detailed digital display and highly visible indicator light were designed with the user in mind.
Flexible Mounting: Featuring a 500mm range, the LR-W can be mounted wherever needed. To ensure stable detection, the sensor features an adjustable beam spot. This allows the LR-W to achieve a focused beam spot, even at long distances.  Additionally, an IP65/67 enclosure rating minimizes the need for maintenance and guarantees longevity in demanding environments.
New Standard: Given the extent of what the LR-W can do, photoeye standardization throughout a facility is now possible. General ease of use and long life allow for increased efficiency and decreased costs.
The LR-W Series is yet another innovative product from KEYENCE that is not only cutting-edge, but versatile enough to integrate on a large scale.
See more on the LR-W Series now:
www.Keyence.com/LRWPR
KEYENCE has steadily grown since 1974 to become an innovative leader in the development and manufacturing of automation equipment worldwide. Our products consist of automation sensors, static eliminators, barcode readers, measuring instruments, vision systems, laser markers, and digital microscopes.