Product News: Packaging Products & Equipment
Form, Fill, Seal Machine produces up to 500 pouches/min.
Press Release Summary: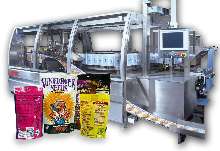 April 7, 2004 - High-speed, continuous-motion, Stand-Up Pouch King forms, fills, and seals stand-up pouches in sizes up to 8 x 10 x 4 in. at 3,000 linear ipm of packaging material. Machine includes integrated servo systems, electronic line shafting, and SERCOS fiber-optic networks. Control features color touchscreen HMI, system diagnostics, and predictive-maintenance capabilities. Stand-Up Pouch King accommodates variety of packaging materials from OPP to retortable materials.
Original Press Release
High-Speed Stand-Up Pouch King Bags Big Gains for Packagers - Doubles Output Rates on Popular Pouch Style
Press release date: April 1, 2004
Based on R.A. Jones' proven Pouch King platform, new machine forms, fills and seals stand-up pouches in sizes up to 8" x 10" x 4" at speeds up to 500 pouches per minute
April, 2004 - Many kinds of packagers can bag big gains in output and flexibility with the high-speed Stand-Up Pouch King from R.A. Jones. The industry's first true high-speed, continuous motion form/fill/seal machine for producing stand-up pouches, the Pouch King can run up to 500 stand-up pouches/min. or 3000 linear in./min. of packaging material. Combining shelf-display visibility with packaging simplicity and customer convenience, the stand-up pouches are ideal for a wide range of packaging applications - dry, baked and frozen food products, garden and pet products, hardware and office products.
Based on the field-proven Jones Pouch King platform, the stand-up model more than doubles the output of current technology. The high-speed machine responds to strong food industry shifts to self-standing pouches. The Stand-Up Pouch King provides manufacturers the consumer appeal and convenience of the popular pouch style. It removes compromises in line speeds, manpower and floor space to usher in a new era of production efficiencies and economy.
The continuous motion machine can accommodate a variety of packaging materials from Oriented Poly Propylene (OPP) to retortable materials. The Stand-Up Pouch King produces pouches up to 8" wide x 10" high x 4" bottom.
The Pouch King family of machines comes equipped with fully integrated servo systems using advanced motion control, electronic line shafting and SERCOS fiber optic networks, all of which eliminate complex mechanical drive systems while providing high reliability, predictable operations and minimal maintenance. The state-of-the-art Pouch King control system features a color touch screen HMI, system diagnostics and servo performance monitoring with predictive (vs. reactive) maintenance capabilities. Jones offers integrated motion/control systems from global sources such as Allen Bradley, Siemens or Indramat to meet the preferences of customers worldwide.
Continuing the Pouch King's sleek, clean design, the stand-up machine features stainless construction, operator friendly access, clear-view gullwing guarding, and an ergonomic low-profile design. The easy-open guarding optimizes personnel access for faster setups and easier cleaning, while providing at-a-glance check of machine operation.
In addition, the Pouch King is offered as a modular system, with optional remote filling for washdown and ease in cleaning, and is available as a pouch maker. The entire Pouch King family of machines from Jones provides state-of-the-art sealing technology, a reduced footprint and web path. The Jones Pouch King is available as part of a total packaging system, from blending and dosing through secondary packaging and carton palletizing.
R.A. Jones and Company Inc., is a Cincinnati-based subsidiary of IWKA, a leading worldwide provider of high performance packaging equipment and services. With almost 100 years of experience designing and manufacturing packaging equipment, Jones also offers the most comprehensive range of value-added engineering and total packaging line services available in the industry, resulting in maximum packaging productivity for its customers.
For more information about all the ways the new Stand-Up Pouch King can raise packaging output and design flexibility, contact: R.A. Jones & Company Inc., P.O. Box 485, Cincinnati OH 45201 USA. Phone: (859) 341-0400. Fax: (859) 341-0519. Internet:
www.rajones.com