Product News: Electrical Equipment & Systems
Foot Control Pedal offers smooth, variable output.
Press Release Summary: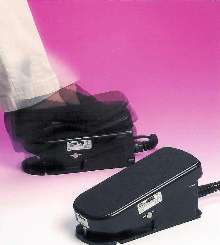 November 11, 2003 - Series 300 Potentiometer Control Foot Switch is a variable-speed control pedal with slip-resistant surface. Featuring 2 W potentiometer drive mechanism with virtually no backlash, electric foot control offers adjustable tension and stroke, and maintains position when user's foot is removed. Unit has cast-aluminum housing, full size pedal surface, and skid-resistant base. It is suitable for any equipment with variable-speed motor.
ConnTrol International, Inc. - Putnam, CT
Original Press Release
Electric Foot Control Pedal Has Smooth Variable Output, Maintains Position
Press release date: November 7, 2003
A new, patented, fully adjustable variable output electric foot control pedal that features a potentiometer drive mechanism for smooth operation is being introduced by ConnTrol International Inc. of Putnam, Connecticut. The ConnTrol Series 300 Potentiometer Control Foot Switch is a variable speed control pedal with a slip-resistant surface that provides extremely smooth operation and maintains its position when the users foot is removed. Featuring a potentiometer drive mechanism that eliminates gears or levers and has virtually no backlash, this variable output electric foot control offers adjustable tension and stroke for optimum operator comfort. Designed for use with any equipment that has a variable speed motor, the ConnTrol Series 300 Potentiometer Control Foot Switch has a 2 Watt potentiometer (100,000 or 1 million cycle ratings offered), a full size pedal surface, and a rugged cast aluminum housing with a skid-resistant base. Options include momentary switches, rubber gaskets and O-rings for total environmental protection, and user-specified cordsets. The ConnTrol Series 300 Potentiometer Control Foot Switch is priced from $70.63 (list) ea., without cordset. Literature is available upon request. Distributor inquiries are invited. For more information contact:
ConnTrol International, Inc.
Ronald J. Braaten, Marketing Director
135 Park Rd. / P.O. Box 645
Putnam, CT 06260-0645
(860) 928-0567 FAX (860) 963-2147
e-mail: sales@conntrol.com
www.conntrol.com