Product News: Green & Clean
Food Service Board features lightweight, sustainable design.
Press Release Summary: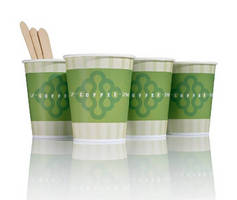 June 12, 2014 - Safe for food contact, Carta Dedica is suited for cups, plates, trays, clamshells, collars, and lids as well as general food packaging applications. Board is available in 2 versions, one with clay coating for optimal print results and uncoated version that provides more natural appearance. Made from fresh renewable forest fibers, board can be recycled and is hard-sized to prevent edge penetration, allowing it to retain strength when in contact with liquids, moist foods, or condensation.
Original Press Release
New Lightweight and Sustainable Food Service Board Launched by Metsä Board
Press release date: June 4, 2014
Mets Board has launched a new lightweight and sustainable board, Carta Dedica, at the PulPaper fair in Helsinki, Finland. It has been developed especially for the rapidly-expanding food service industry. Safe for food contact, and with excellent formability, Carta Dedica is ideal for cups, plates, trays, clamshells, collars and lids, as well as general food packaging applications.
"Carta Dedica provides a solution that will be welcomed by consumers, retailers, converters and brand owners," says Nina Happonen, Commercial Director Food & Beverage, Metsa Board. "It is made from renewable fresh fibres, and can be easily recycled - reducing the impact of litter. And it is both lightweight and strong, yielding more items per tonne and allowing for cost reductions."
The board is available in two versions, one with a clay coating for premium print results; and an uncoated version providing a more natural appearance. Carta Dedica is also suitable for extrusion- or dispersion-coating when an additional barrier is required. It is hard-sized in order to prevent edge penetration, allowing the board to retain strength when in contact with liquids, moist foods or condensation. It has excellent runnability in converting and printing, thanks to its consistent quality.
Carta Dedica is approved for food contact, at a time when concerns about safety are high, and is odour and taint neutral. It is ideal for many different types of food on the go, including ice cream, bakery, confectionery, sandwiches and wraps, as well as hot, cold and chilled drinks. It is manufactured without optical brighteners (OBAs).
Carta Dedica is made from fresh forest fibres grown in sustainably managed northern forests. All the raw materials used in manufacturing can be traced to source and they are free from GMOs (genetically modified organisms). Carta Dedica is made at Metsa Board's Tako mill in Finland, which holds PEFCT and FSC? Chain of Custody certificates as well as environmental and quality certification. It is recyclable, biodegradable, and being lightweight uses less raw material and energy in manufacturing and transport.
For further information see
www.metsaboard.com
or contact your local Metsa Board representative for samples and specification.
For further information, please contact Metsa Board:
Nina Happonen, Commercial Director Food & Beverage
Mobile: +358 (0)50 3076721
E-mail:
nina.happonen@metsagroup.coom
www.metsaboard.com
Metsa Board is Europe's leading producer of fresh forest fibre cartonboards, the world's leading manufacturer of coated white-top kraftliners, and a major paper supplier. The company's sales network serves brand owners, carton printers, corrugated packaging manufacturers, printers, merchants and office suppliers.
Metsa Board supports its customers' businesses by providing high-performance paperboards and quality papers for consumer and retail packaging, graphics and office end-uses. Together with its customers and partners, Metsa Board develops products and services for demanding end uses. The company's paperboard is mainly used for the packaging of beautycare and healthcare products, foods, cigarettes, and consumer durables as well as graphics. Paper is mainly used for office papers as well as wallcoverings and other speciality end uses.
Metsa Board's business areas are Cartonboard, and Linerboard and Paper.
Metsa Board is headquartered in Finland. In 2013, the company's sales totalled EUR 2.0 billion, and it has approximately 3,100 employees. Metsa Board, part of Metsa Group, is listed on the NASDAQ OMX Helsinki.
www.metsagroup.com
Metsa Group is a responsible forest industry group whose products' main raw material is renewable and sustainably grown northern wood. Metsa Group focuses on tissue and cooking papers, consumer packaging paperboards, pulp, wood products, and wood supply and forest services. Its high-quality products combine renewable raw materials, customer-orientation, sustainable development and innovation. Metsa Group's sales totalled EUR 4.9 billion in 2013, and it employs approximately 11,000 people. The Group operates in some 30 countries. Metsaliitto Cooperative is the parent company of Metsa Group and is owned by approximately 123,000 Finnish forest owners.