Product News: Food Processing & Preparation
Food Product Concentrator improves narrow bag throughput.
Press Release Summary: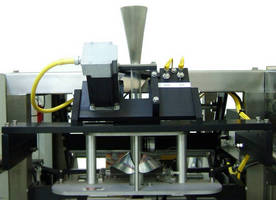 September 24, 2012 - By concentrating food and delivering shaped charge, SmartGate™ accelerates filling of small bags that do not contain much product for contract snack and health food packagers. Form-fill seal bagging operations running at 60 narrow bags (3.5 in. across or less) per minute can expect speeds from 100–120 units/min. Operation increases percentage of in-specification seals and reduces frequency of open bags. Unit can be removed from machine when wider bags are run on packaging line.
Matrix Packaging Machinery - Saukville, WI
Original Press Release
Matrix Patents a Device that Nearly Doubles the Speed of Filling Snack and Health Food Bags
Press release date: September 20, 2012
The SmartGate™ product concentrator significantly improves throughput for contract packagers and brand owners and increases profits on food packaged in narrow bags

SAUKVILLE, Wis. – Matrix Packaging Machinery, powered by Pro Mach, now offers snack and health food packagers the patented SmartGate™ product concentrator, which can improve the throughput of narrow bags and generate greater profitability per run. Form-fill-seal bagging operations running at 60 narrow bags – 3.5 inches across or less - per minute can expect speeds between 100 to 120 units per minute on Matrix machines featuring SmartGate.

"When filling very small bags that do not contain a lot of product, it's difficult for a contract packager or brand owner to make much money per bag," said SmartGate co-developer Michael Krummey, who holds dual roles at Matrix in controls engineering and research and development. "And smaller bags are harder to run at high speeds because the product is typically too spread out. That is where SmartGate really helps. It concentrates the food and delivers a shaped charge faster than ever before."

SmartGate can reduce the time it takes for a total charge of food to be packed in a narrow bag by close to 70 percent. With the SmartGate concentrator, bags have a higher percentage of in-specification seals – fewer open bags – and operations personnel spend less time on problems and more time on value-adding activities.

The device can be removed from Matrix machines when wider bags are run on the packaging line.

View the SmartGate product concentrator in action.  For more information on improving profitability when filling narrow bags call Matrix at 262-268-8300 and visit www.MatrixPM.com.

About Matrix
Matrix Packaging Machinery is an industry-leading manufacturer of vertical form-fill-seal (v/f/f/s) packaging equipment. Since 1988 Matrix has built a solid reputation for delivering rugged, well-engineered, cost competitive, and easy-to-use packaging systems backed by outstanding customer support. Matrix has machines in operation throughout the world, handling a wide range of products in very diverse conditions. www.MatrixPM.com

About Pro Mach
Pro Mach, Cincinnati, Ohio, is a leading provider of integrated packaging products and solutions for food, beverage, household goods, pharmaceutical, and other diverse consumer and industrial companies. Through three business units and related divisions, Pro Mach provides equipment, training, installation, and parts in primary packaging, end-of-line packaging, and identification and tracking. www.ProMachInc.com

Media Contact:
Jack Aguero
770-965-9458
jaguero@ProMachInc.com