Product News: Materials & Material Processing
Food Packaging Film suits freezer-to-microwave applications.
Press Release Summary: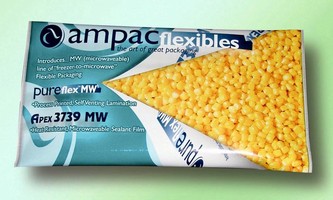 October 29, 2008 - Available in clear or opaque versions, Apex 3739 MW multilayer film features printing base for lamination to reverse printed PET or PP. Low seal initiation temperature, high seal strength, and broad sealing window optimize packaging speeds on vertical form fill seal machines. PureFlex(TM) MW laminated rollstock is self-ventilating, FDA-compliant for all food types, and available in 1- or 2-side sealable versions. Both products are designed for freezer-to-microwave applications.
Ampac Packaging, LLC - Cincinnati, OH
Original Press Release
Ampac Flexibles Launches Apex 3739 MW and PureFlex(TM) MW Freezer-to-Microwave Packaging
Press release date: October 15, 2008
Cincinnati, OH (October 15, 2008)-Ampac Flexibles, the flexible packaging division of Ampac Packaging LLC, introduces Apex 3739 MW (microwaveable) sealant film and PureFlex(TM) MW self-venting laminate for freezer-to-microwave applications.
Apex 3739 MW is available in clear or opaque sealant film providing an improved printing base for lamination to reverse printed PET or PP. This multilayer, coextruded film is designed to withstand cold temperature burst, reducing costly product loss during distribution of frozen packaged goods. The film has a low seal initiation temperature, high seal strength, improved slip properties and a broad sealing window that provide improved packaging speeds and efficiencies on vertical form fill seal (VFFS) machines.
PureFlex MW laminated rollstock is ready for use. True-to-life process print is available in either flexo or rotogravure. Additional benefits are the solventless lamination option that offers an impressive 86% improvement in energy over a similar solvent-based lamination allowing for an energy innovation credit in the Walmart Scorecard. The structure is available in one or two side sealable versions and is FDA-compliant for all food types utilizing Ampac's low extractables PureFlex(TM) technology.
PureFlex MW is self-venting, requiring no further ventilation during packaging or microwaving. This helps maintain the integrity of nutrients, food color, taste and aroma by utilizing microwave steam-cooking technology. The freezer-to-microwave-to-table process provides convenience and saves meal preparation time, allowing Ampac's customers to address the consumer's growing needs for quick and healthy food preparation. The technology is suitable for steaming quick frozen foods such as vegetables, vegetables with proteins and seafood, meals, fish, breads and more.
"The MW series utilizes Ampac's expertise in film design, lamination technology, and graphics to provide a structure that withstands cold temperature burst, has a broad seal range, and is also heat resistant for the microwave." says Sal Pellingra, Innovation and Marketing Director for Ampac Flexibles. "Many of these properties are working against each other, and further, the packaging includes superior graphics and a venting system, making this a highly engineered structure. Ampac has gone the extra mile to incorporate features that improve manufacturing and distribution efficiencies. In addition, the solventless lamination technology impacts the Wal-Mart scorecard." continues Pellingra, "Ampac will continue to leverage technology to provide new products to our customers, which in turn provides value-added packaging to consumers".
Ampac Packaging LLC is privately held, and is owned by senior executives together with equity backing by Prudential Capital Group and Falcon Investment Advisors. It is a diversified, international, flexible packaging company with 14 manufacturing centers in North America, Europe and Asia employing approximately 1,300 people with revenues in excess of $300 million annually. In addition to products offered by Ampac Flexibles, the company is the preeminent supplier of domestic and overseas retail specialty shopping bags and security bag solutions.
For more information, visit Ampac Flexible's website at:
www.ampaconline.com/flexibles.php.
Please forward sales inquiries to:
Ampac Flexibles
12025 Tricon Rd
Cincinnati, OH 45246
Phone: (513) 671-1777
Fax: (513) 671-2920
Email: ampacflexibles@ampaconline.com