Product News: Electrical Equipment & Systems
Fluorescent Lighting Fixtures highlight architecture.
Press Release Summary: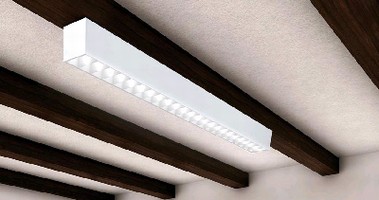 July 7, 2008 - Available in 3 narrow aperture linear styles, Microlyne(TM) Rectilinear Fixtures can be placed at, below, or above ceiling plane. Units come in cable mount, surface mount, wall mount, or recessed in 3.5 and 2.5 in. apertures. Modular housing styles may be mounted in single or row configurations. Featuring parabolic louver, Microlyne 1T5 is 85.5% efficient, while Mini has 83.5% efficiency rating, and Microlyne T5, with glowing opal lens, reaches 57.5% efficiency.
Original Press Release
Alera Lighting Launches Microlyne-An Extensive New Fixture Family
Press release date: July 2, 2008
July 1, 2008, Greenville, SC -- Alera Lighting, a leading manufacturer of architectural and specialty fluorescent luminaries serving a complete spectrum of commercial and institutional applications, announces the largest product introduction in its history. The new Microlyne(TM) Rectilinear Family offers a diverse collection of narrow aperture fluorescent fixtures designed to highlight architecture, maintain unparalleled aesthetic continuity throughout each luminaire design, and provide installation advantages, all while exceeding rigorous performance standards.
The Microlyne(TM) Rectilinear line includes three narrow aperture linear styles, in eight mounting types, providing architects, illuminating engineers, lighting designers, and other lighting specifiers with increased latitude when preparing lighting specifications for many applications.
All of the products in the line, constructed in proper scale to each other, were developed to either work alone or together in groups. When used in a large application or throughout a building, the architectural aesthetic is never compromised. Specifiers are able to choose among four distribution methods, three fluorescent lamp sources, two light modules, and three corner selections. In addition, five shielding options allow for visual consistency across all three sequentially graduated rectilinear shapes.
Designed to be placed at, below, or above the ceiling plane, Microlyne(TM) Rectilinear fixtures are ideal for a variety of office settings, retail environments, and institutional applications such as schools, and healthcare facilities. Available as a cable mount, surface mount, wall mount or recessed in 3.5" and 2.5" apertures, three modular housing styles may be mounted in single or row configurations.
Featuring an aesthetically pleasant high-efficiency parabolic louver, Microlyne(TM) Rectilinear achieves the highest efficiency of any narrow aperture product on the market. Microlyne 1T5 is 85.5% efficient; its smaller counterpart, the Mini has an efficiency rating of 83.5%. The Microlyne T5 has a glowing opal lens and reaches a 57.5% efficiency mark compared to 39-45% in typical competitive units. The use of an optional white cross baffle creates a signature look with an exceptional aesthetic using one T5 standard lamp that attains 82.3% efficiency. An available option unique to the Microlyne(TM) fixtures is the addition of either MR 16 or LED downlight modules at the end of each luminaire in single or row placement, imparting further sparkle and drama.
In addition to offering exceptional aesthetics and efficiency, the Microlyne(TM) Rectilinear line is user friendly and easy to install. Cable mount units install by permitting electrical contractors to attach aircraft cable from the back of the housing rather than having to remove all the internal elements in order to secure connections from inside the unit. Patent pending Ready Connect end caps and light seals are standard. Quick connect wiring reduces complexity and integral internal ballast disconnects are standard.
Whether using a 3.5" or 2.5" aperture fixture, Microlyne(TM) products offer an abundant selection of features, options, and configurations. When compromise is not an option in specifying your lighting application, Microlyne is the perfect choice.
For more information about Alera, visit
www.aleralighting.com
. Alera Lighting is a division of Hubbell Lighting, 701 Millennium Boulevard, Greenville, SC. Phone: 864-678-1000.
Alera Lighting o Architectural Area Lighting o Columbia Lighting o Cornerstone Life Safety Products o Devine Lighting o Dual-Lite Hubbell Outdoor Lighting o Hubbell Industrial Lighting o Kim Lighting o Kurt Versen o Prescolite Progress Lighting o Security Lighting o Spaulding Lighting o Sportsliter Solutions o Sterner Lighting o Whiteway
Columbia Lighting 864-678-1256