Product News: Electrical Equipment & Systems
Fluorescent Cable Ties identify hose usage.
Press Release Summary: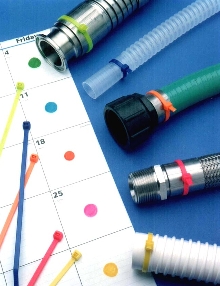 August 28, 2002 - Fluorescent Cable Ties are made from Type 66 Nylon and feature bright blue, orange, yellow, pink, and green colors. Available in 4 to 14 in. lengths, they can fit variety of different sized hoses or tubing to identify time lines, materials, or applications. Easy to see on land and under water, cable ties can be used as safety and security markers for matching hoses to plant site or bracelets to identify workers or visitors to specific area.
Original Press Release
Fluorescent Cable Ties Identifiy Hose Usage and Time-In-Service
Press release date: August 22, 2002
A full line of colorful, fluorescent cable ties that can affixed to hoses for color-coding their application, time-in-service, or another variable, is available from Nelco Products, Inc. of Pembroke, Massachusetts. Nelco Fluorescent Cable Ties are made from durable Type 66 Nylon and feature bright blue, orange, yellow, pink, and green colors. Available in 4" to 14" lengths, these highly visible ties can fit a variety of different sized hoses or tubing to identify time lines, materials, or applications. Easy to see on land and under water, Nelco Fluorescent Cable Ties can be used as safety and security markers for matching hoses to a plant site or as bracelets to identify workers or visitors to a specific area. Like conventional cable ties, they can also bundle and organize wires and hoses. Nelco Fluorescent Cable Ties are priced from $.01 ea., depending upon size and quantity. Samples and price quotations are available on request. For more information contact: Nelco Products, Inc.
Michelle Abbondanzio, Marketing
22 Riverside Dr.
Pembroke, MA 02359
(781) 826-3010 FAX (781) 826-7344
e-mail: info@nelcoproducts.com
www.nelcoproducts.com