Product News: Chemicals & Chemical Processing
Fluid Reclamation Machine features portable, inline design.
Press Release Summary: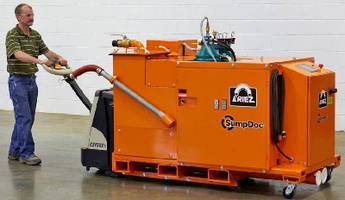 October 15, 2012 - Utilizing 3-step process, Hydroflow® SumpDoc™ provides complete coolant restoration and rejuvenation treatment of metalworking fluids in machine tool sump with minimal operator interface. System includes sump cleaner for removal of sludge and solids 50 microns and larger, pleated bag filter for removal of solids down to 10 micron, continuous flow tramp oil coalescer, high speed centrifuge for removal of emulsified tramp oil and fines down to 3–5 micron, ozone generator, and coolant makeup system.
Original Press Release
Eriez® Introduces SumpDoc(TM) During Period of Extraordinary Company Growth and Additional Commitment to the Metalworking Industry
Press release date: October 9, 2012
Erie, PA — The introduction of the Eriez® Hydroflow® SumpDoc™, a revolutionary portable inline fluid reclamation machine, comes at a time when the company is growing and flourishing in all areas. In addition to an array of new product introductions and off-the-charts sales, Eriez' newest facility, located on Wager Road in Erie, PA, which houses the expanded Eriez Hydroflow manufacturing operations, is up and running at full production.
"In this, our 70th anniversary year, we are pleased to report that Eriez is continuing to set records for sales and shipments," says Dan Zimmerman, Director of Business Development and Market Manager—Metalworking. "The introduction of SumpDoc at IMTS 2012 is just one more example of how Eriez is staying on the leading edge in the industries we serve. Innovations such as SumpDoc have been the key to our continued growth."
According to Eriez, the Wager Road facility is an important component to the company's ongoing success as this additional space helps accommodate their growing metalworking product manufacturing volume.  The company is also expanding overseas. Eriez' operations in Canada, China and India have recently been moved from existing facilities to larger buildings in the area to meet growing international demand.
"We believe that our growth can be attributed to our state-of-the-art product offerings and unmatched customer service," says Zimmerman. "We are particularly proud of our newest product, SumpDoc. It is truly revolutionary and offers a cost-effective alternative to a central fluid recycling system or batch processing."
About SumpDoc
SumpDoc provides complete coolant restoration and rejuvenation treatment of the metalworking fluids in the machine tool sump with minimal operator interface. There is no interruption in the production cycle or need to transport fluids. The portable SumpDoc can be wheeled next to a machine tool, parts washer or rinse tank to provide full-service fluid reclamation in a simple three step process.
The main features of the SumpDoc include; sump cleaner (sump vac) for removal of all sludge and solids 50-micron and larger, pleated bag filter and housing for removal of solids down to 10-micron, continuous flow tramp oil coalescer, high speed centrifuge for removal of emulsified tramp oil and fines down to three to five micron, ozone generator for microbiological treatment of coolants, coolant makeup system with proportioner and electrical controls with touch screen dashboard.  All components are housed on a mobile platform for ease of transportation.   
The SumpDoc operates in three easy steps.  After locating the SumpDoc unit next to an operating machine tool sump and connecting to the plant source of compressed air, water and electric, the unit is ready to begin metalworking fluid rejuvenation while the machine tool remains in full production.  The operator turns the unit on and follows the steps illustrated on the control panel touch screen dashboard.
In step one the operator selects the Sump Vac Mode from the dashboard controls.  The sump vac portion of the portable unit is equipped with a long two-inch diameter hose and aluminum angled crevice tool for sucking up the bulk of the chips in the sump.  Solids are trapped in a 50-micron polyester bag and the coolant returns to the sump for continuous operation of the machine tool.
In step two the operator selects Filtration Mode from the dashboard controls.  The suction hose of the air-operated diaphragm pump is positioned in the machine tool sump while the discharge hose from high speed centrifuge and/or tramp oil coalescer is directed back to the machine tool sump.  The recommended positioning of the hoses maximizes the turbulence and sump "scrubbing" action to re-suspend settled solids for suction collection.  The coolant continuously re-circulates to the sump during the filtration mode to provide uninterrupted machine tool operation.  Once the filtration mode is in operation, the operator is free to conduct other activities until the filtration mode is complete.   
Step three is the Coolant Makeup Mode.  After running of filtration mode for a predetermined amount of time, the operator will check the coolant concentration level with the onboard digital refractometer.  The operator then selects Coolant Makeup Mode from the dashboard controls and selects "lean", "standard", or "rich" for topping up the sump with the proper coolant concentrate mix. 
Once the sump tank reaches the desired concentration level, the process is complete.  The operator disconnects the SumpDoc and moves on to the next machine tool sump or parts washer to be cleaned.
Onboard storage containers include a coolant concentrate/chemical tank, tramp oil and centrifuge backwash tanks.  All tanks include discharge or cleanout pumps for ease of dispensing or removing content through simple touch screen controls on the SumpDoc dashboard.
For more information, visit
www.eriez.com
/hydroflow.
Eriez is recognized as world authority in advanced technology for magnetic, vibratory and inspection applications. The company's magnetic lift and separation, metal detection, x-ray, materials feeding, screening, conveying and controlling equipment have application in the process, metalworking, packaging, recycling, plastics, rubber, mining, aggregate and textile industries. Eriez manufactures and markets these products through 12 international facilities located on six continents.  For more information, call toll-free (888) 300-ERIEZ (3743) within the U.S. and Canada. For online users, visit
www.eriez.com
or send e-mail to eriez@eriez.com. Eriez World Headquarters is located at 2200 Asbury Road, Erie, PA 16506.