Flexible LED Screen accommodates diverse application needs.
Press Release Summary: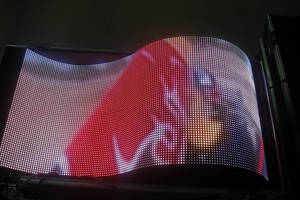 January 11, 2012 - With per-tile weight of 0.35 kg and dimensions of 288 x 192 mm, P6mm accommodates needs of such applications as TV studios, fashion and auto shows, and concert tours. Features include full magnetic backside system, screw for fixed installation/mounting on any metal sheet, and rubber-based louvers to weaken gaps between tiles and backside design. Screen has ~3,000 nits brightness rating and 2,400 Hz refresh rate, promoting vivid colors and camera effects.
Original Press Release
DesignLED Launched P6mm Flexible LED screen
Press release date: January 10, 2012
DesignLED released P6mm Flexible LED screen in Jan,2012.
With its special design and high resolution demands from market , P6mm launched with its reliable and mature techniques to be used for many applications, such as TV studio , Fashion Show , Auto Show , and Concert Tour .
P6mm Flex led screen is with size 288mmx192mm for per tile, full magnetic backside system for rental, also screw for fixed installation for easy mounting on any mental sheet, and rubber-based louvers to weaken gaps between tiles and backside design makes product sexy in structure . It has around 3000nits brightness and 2400Hz refresh rate to make whole screen vivid color and excellent effect before camera. The whole design is very creative, humanized, and lively .
P6mm Flex could make led screen as big as possible without any size limited. Compared to P10mm Flex , P6mm is the mainstream product, and will have more demands from market which has much more comprehensive applications for high-end market .
P6mm Flexible led screen is new gen patented rubber Flexible LED screen with high quality, with super lightweight 0.35kg per tile making it the ideal product for rental market but also very cost effective for fixed installation due to ease of mounting such a lightweight tile.
P6mm Flexible LED screen could be compatible with most of control systems in the market, such as DB star, Linsn etc, and very easy to be used and operated.
DesignLED Technology company limited is based on in Shenzhen China , which is a professional provider of a complete solution of LED screeniP6mm & P10mm rubber Flexible LED screen, Lightweight LED screen, Customized LED screenjincluding the demand analysis , R&D, manufacturing, and professional services . DesignLED developed 1rt generation full flexible led screen which could be twisted and new gen one current, and designLED is the original supplier of rubber-based flex LED screen with core technology in hands and could control the quality very well .
For more information, please visit the website:
www.designledpro.com
Contact us at angela@designledpro.com
www.designledpro.com