Product News: Computer Hardware & Peripherals
Flexible Analog Module has 8 independently configurable channels.
Press Release Summary: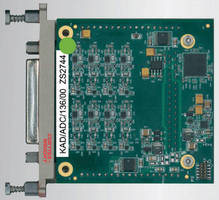 August 13, 2014 - Available for flight test instrumentation products and Acra KAM-500 modular DAQ unit, ADC/136 lets users interface to different analog sensors on same module without decreased accuracy. There are 8 channels that can be used with various sensor types, and configuration of each can be performed with DAS Studio software. Also, module supports programmable primary gain, input range, and balance for each channel with choice of IIR or FIR filter. Current or voltage excitation is also programmable.
Original Press Release
Curtiss-Wright Introduces a Flexible, High Accuracy 8-Channel Module for Its ACRA KAM-500 Data Acquisition System
Press release date: August 7, 2014
New Multi-Interface Module Features Independently Configurable Analog Channels
ASHBURN, Va. – Curtiss-Wright Corporation (NYSE: CW) today announced that its Defense Solutions division has introduced a new flexible analog module for its flight test instrumentation (FTI) product range. Designed and manufactured by its Avionics & Electronics Group, the Acra KAM-500 ADC/136 is a commercial off-the-shelf (COTS) module that enables users to interface to different analog sensors on the same module without sacrificing accuracy.
The ADC/136 features eight (8) flexible channels that can be used with a wide range of sensor types, including full or half-bridge, potentiometer, single ended, differential ended, Integrated Circuit Piezoelectric (ICP), Resistance Temperature Detector (RTD) or thermocouple sensors. Configuration of each of the individual channels can be performed quickly and easily using Curtiss-Wright's intuitive DAS Studio software. This provides flight test engineers with a simple and highly flexible approach for meeting new or unique sensor requirements. It also helps to reduce the total number of modules necessary in an FTI application where only a small number of parameters need to be acquired.
"With over two decades as leading flight test instrumentation experts, the addition of a multi-interface module adds more flexibility to an already flexible system," said Lynn Bamford, Senior Vice President and General Manager, Defense Solutions division. "Our industry-leading Acra KAM-500 data acquisition system, with its library of over 100 modules provides a custom solution with cost-effective off the shelf technology. The new ADC/136 module further enhances the KAM-500's capabilities with support for flexible I/O without sacrificing accuracy or features."
The ADC/136 has programmable primary gain, input range and balance for each channel with a choice of either IIR or FIR filter. It also features programmable current or voltage excitation, high accuracy (up to 0.03%FSR typical), 50KSps, 12.5KHz bandwidth and high impedance per channel when powered off.
About Curtiss-Wright's Acra KAM-500
Curtiss-Wright's Acra KAM-500 is a compact, low-power, modular data acquisition unit (DAU) that has been developed through decades of experience and heavy investment in R&D. It's driven by hardwired finite state machines making it extremely reliable; while its small size makes it ideal for installing in locations that have limited space. The Acra KAM-500 has passed rigorous environmental testing ensuring it is fully qualified for aerospace applications, enabling rugged flight data acquisition in the harshest of environments.
Sales inquiries: Please forward all sales and reader service inquiries to
cwc-ae@curtisswright.com
.
For more information, please visit
www.cwc-ae.com
.
About Curtiss-Wright Corporation
Curtiss-Wright Corporation (NYSE:CW) is a global innovative company that delivers highly engineered, critical function products and services to the commercial, industrial, defense and energy markets.  Building on the heritage of Glenn Curtiss and the Wright brothers, Curtiss-Wright has a long tradition of providing reliable solutions through trusted customer relationships. The company employs approximately 10,000 people worldwide.  For more information, visit
www.curtisswright.com
.
NOTE: Trademarks are property of their respective owners.
John Wranovics
Director of Public Relations
Curtiss-Wright Defense Solutions
jwranovics@curtisswright.com
Mobile: (925) 640-6402