Product News: Sensors, Monitors & Transducers
Flaw Detector utilizes phased array and ultrasound modules.
Press Release Summary: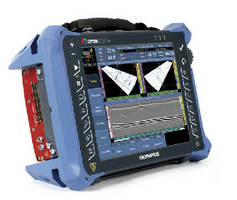 November 6, 2012 - For expanded capabilities, OmniScan MX2 Flaw Detector is available with PA2 Phased Array module with UT channel, and UT2 two-channel conventional ultrasound module that can be used for Time-of-Flight Diffraction. NDT SetupBuilder software can create inspection setups based on configuration of component or part to be inspected, while OmniPC software revision provides comprehensive data analysis capabilities for inspection data acquired with flaw detector.
Olympus Scientific Solutions America - Waltham, MA
Original Press Release
Olympus NDT Introduces New Phased Array and Ultrasound Modules
Press release date: October 24, 2012
Olympus NDT Introduces New Phased Array and Ultrasound Modules, NDT SetupBuilder, and OmniPC software to expand the Capabilities of the OmniScan MX2 Flaw Detector.

Olympus NDT, the leader in industrial ultrasound phased array instrumentation, is pleased to introduce the latest hardware and software advances for the innovative OmniScan MX2 flaw detector. Olympus now offers the PA2 second generation Phased Array module with a UT channel, and the UT2 two-channel conventional ultrasound module that can be used for TOFD (Time-of-Flight Diffraction), as well as new software programs that expand the capabilities of the successful OmniScan MX2 platform. Together, these new modules and software programs simplify the inspection workflow, from operator training to scan plan design, instrument setup, calibration, and data acquisition, analysis and reporting. They represent the next cornerstone of Olympus NDT's mission to make nondestructive testing—and phased array in particular—more accessible to all levels of inspectors.

The new PA2 Phased Array module features improved signal quality through better signal-to-noise ratio, a higher pulser voltage, and a fanless design. It also features additional multi-group capabilities and the ability to use PA and UT channels simultaneously. The new UT2 conventional ultrasound module features the same UT channel technology as the PA2 module, but offers twice as many UT channels. These rugged modules are built to face the toughest industrial environments including operation under a wide temperature range.

The NDT SetupBuilder is a new software program specifically designed for the Olympus line of automated and semi-automated ultrasonic testing instruments. It can be used to quickly and easily create inspection setups based on the configuration of the component or part to be inspected. NDT supervisors can use NDT SetupBuilder software to simulate an inspection strategy in order to determine the appropriate number of UT, PA, or TOFD beams and angles for a given test. The inspection setup can then be electronically imported to the OmniScan MX2, thereby reducing configuration time and manipulation errors.

Olympus NDT is also introducing a new OmniPC software revision for the OmniScan MX2. OmniPC is a computer-based software program that provides comprehensive data analysis capabilities for inspection data acquired with the OmniScan flaw detector. It provides several cost-saving advantages because analysis of inspection data is conducted on a computer rather than on the OmniScan. A major benefit is that the OmniScan can be employed as a dedicated acquisition unit when scanning for hidden cracks, voids, and other internal discontinuities in metals, composites, plastics, and ceramics. Data acquisition and data analysis can be conducted concurrently on a portable computer, which increases productivity and decreases inspection time.

For both your current and future inspection needs, the OmniScan MX2 can accept any Olympus Phased array module. Its technology platform allows for simple software and phased array module upgrades ranging from to 16:64 to 32:128 configurations. Furthermore, this new generation of electronics represents the basis on which specifications and features will continue to evolve and improve through software updates. The OmniScan MX2 can be used with a full range of phased array probes, scanners, and accessories, making Olympus the phased array solutions provider of choice for the petrochemical, aerospace, power generation, and other industrial markets. 

About Olympus NDT
Olympus NDT is a world-leading manufacturer of innovative nondestructive testing instruments that are used in industrial and research applications ranging from aerospace, power generation, petrochemical, civil infrastructure, and automotive to consumer products. Leading-edge testing technologies include ultrasound, ultrasound phased array, eddy current, eddy current array and X-ray fluorescence. The Olympus NDT product lineup includes flaw detectors, thickness gages, in-line systems, automated systems, industrial scanners, analyzers, pulser-receivers, probes, transducers, and various accessories. Olympus NDT is also a distributor of remote visual inspection instruments and high-speed video cameras in the Americas. Olympus NDT is based in Waltham, Massachusetts, USA, and has sales and service centers in all principal industrial locations worldwide.

For more information please contact:
Meindert Anderson
Corporate Manager, Marketing Director
Olympus NDT
(1) 781-419-3562
Meindert.anderson@olympusNDT.com
Web: www.olympus-ims.com