Product News: Computer Hardware & Peripherals
Flat Panel Monitors feature flicker-free display.
Press Release Summary: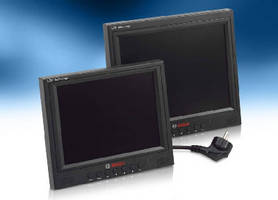 January 5, 2010 - Suited for analog video, DVR, and PC applications, LED Flat Panel Monitors come in 8.4 and 10.4 in. versions with max brightness from 400-450 cd/m² and contrast ratio from 600:1-700:1. Panels refresh every 10-20 ms, providing clear images with minimal smearing and image ghosting in fast-motion video. LED backlight panels help to avoid luminance degradation, enabling monitors to maintain brightness level over time.
Bosch Security Systems, Inc. - Fairport, NY
Original Press Release
Bosch Introduces LED Flat-Panel Monitor Range
Press release date: January 1, 2010
Bright, high-contrast picture with accurate color reproduction for easy interpretation of images

Sharp, flicker-free display minimizes eye fatigue

Long-life LED backlight panel maintains brightness with age

Bosch Security Systems is introducing a range of LED flat-panel high-resolution monitors for use with analog video, digital video recorder (DVR) and PC applications. The new range, which is being introduced alongside a similar range of normal LCD flat-panel monitors, will replace the company's current CRT monitor range in the CCTV market.

Featuring color LED backlight panels, the monitors are available in 8.4-inch and 10.4-inch versions (viewable area). They offer a maximum brightness of between 400 and 450 cd/m2, very high color accuracy and consistency for easy viewing and interpretation of images, and a maximum contrast ratio between 600:1 and 700:1. In addition, the panels refresh every 10 to 20 milliseconds, providing crisp, clear images with minimal smearing and image "ghosting" in fast-motion video. They also feature a wide range of horizontal and vertical viewing angles that provide comfortable, clear viewing - whether the monitors are placed on a desk or mounted on a wall or in a rack.

LED backlight panels help to avoid luminance degradation, enabling the monitors to maintain their brightness level over time. The consistent brightness also contributes to the sharp display image, with longer lamp life than normal LCD monitor backlights, which means they can be used for longer without eyestrain or excessive fatigue. Moreover, LED monitors weigh less, are thinner and use 15 to 50% less power than an LCD monitor of comparable size.

The monitors accommodate a wide range of signal sources with two composite BNC inputs and loop-through outputs, Y/C (S-video) and loop-through video and audio inputs, and an analog VGA input for DVR or PC applications.

The Bosch Group is a leading global supplier of technology and services. In the areas of automotive and industrial technology, consumer goods, and building technology, some 280,000 associates generated sales of 45.1 billion euros in fiscal 2008. The Bosch Group comprises Robert Bosch GmbH and its more than 300 subsidiaries and regional companies in over 60 countries. If its sales and service partners are included, then Bosch is represented in roughly 150 countries. This worldwide development, manufacturing, and sales network is the foundation for further growth. Each year, Bosch spends more than 3.5 billion euros, or eight percent of its sales revenue, for research and development, and applies for over 3,000 patents worldwide. With all its products and services, Bosch enhances the quality of life by providing solutions which are both innovative and beneficial.

The company was set up in Stuttgart in 1886 by Robert Bosch (1861-1942) as "Workshop for Precision Mechanics and Electrical Engineering." The special ownership structure of Robert Bosch GmbH guarantees the entrepreneurial freedom of the Bosch Group, making it possible for the company to plan over the long term and to undertake significant up-front investments in the safeguarding of its future. Ninety-two percent of the share capital of Robert Bosch GmbH is held by Robert Bosch Stiftung GmbH, a charitable foundation. The majority of voting rights are held by Robert Bosch Industrietreuhand KG, an industrial trust. The entrepreneurial ownership functions are carried out by the trust. The remaining shares are held by the Bosch family and by Robert Bosch GmbH.

Additional information can be accessed at www.bosch.com.