Filter Press separates solids from liquids.
Press Release Summary: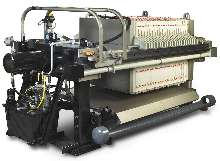 May 27, 2003 - Available in plate and frame, recessed chamber, or membrane configurations, WP Series produces solid filter cakes for unlimited number of dewatering applications. Frame design includes rotating pin joint connectors for even distribution of hydraulic forces and plate shifter with fully automatic, positive parallel tracking, and accurate plate alignment. Additional offerings include pump systems, pipe manifolds, drip trays, and safety equipment.
NETZSCH Premier Technologies, LLC - Exton, PA
Original Press Release
New WP Filter Press Series Available From Netzsch
Press release date: May 1, 2003
EXTON, PA, May 2003 - The Filtration Division of NETZSCH introduces an all new series of superior Filter Presses, the WP Series. Maintaining the highest level of dependability and efficiency NETZSCH customers have grown to expect, WP Filter Presses are designed for exceptionally long service, low maintenance and reduced operating costs. The superior new NETZSCH WP Series is guaranteed to outperform traditional liquid/solid separation systems. Available in plate and frame, recessed chamber or membrane configurations, this series incorporates unique engineering principals all designed to produce the highest solids filter cake for an unlimited number of dewatering applications. A new frame design includes rotating pin joint connectors for even distribution of hydraulic forces. A maintenance-free plate shifter features fully automatic positive parallel tracking and accurate plate alignment. Additional standard value added features include pump systems, pipe manifolds, drip trays and safety equipment. NETZSCH WP Filter Presses are manufactured in model sizes including 800, 1000 and 1200. All NETZSCH filter presses are highly efficient devices, designed to separate solids from liquids, producing a dry cake and clear filtrate using a combination of feed pressure and special filter plates and cloths. NETZSCH filtration systems are used in every major industry, including municipal and industrial waste treatment, chemicals, mining, petrochemicals, pharmaceuticals and food and beverage processing. NETZSCH Incorporated is the North American subsidiary of the globally operating group of NETZSCH companies. NETZSCH is the world's leading manufacturer of filtration systems, wet and dry grinding and dispersion equipment, and progressing cavity pumps. NETZSCH Incorporated has been serving North America for more than 30 years. For more information on NETZSCH WP Filter Presses, contact: NETZSCH Incorporated, 610.363.8010, Fax: 610.363.0971 E mail: filterpress@netzschusa.com. Visit our web site at:
www.netzschusa.com
April Hoffman Graphic Designer NETZSCH Incorporated ahoffman@netzschusa.com
www.netzschusa.com