Product News: Vision Systems
Fibre-Optic sCMOS Camera provides high-energy detection.
Press Release Summary: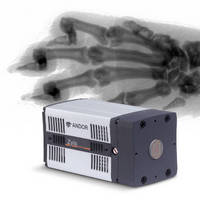 June 30, 2014 - Designed for high-energy X-ray and neutron indirect detection, Zyla 5.5 HF offers combination of 5.5 megapixel resolution array with 6.5 µm pixels, 100 frames/sec sustained acquisition rate, and ultra-low 1.2 e-readout noise. Modular architecture allows coupling of scintillators, fiber-optic tapers, and Beryllium filters, allowing configuration of Zyla HF to match requirements of applications such as X-ray materials imaging, non-invasive X-ray bio- and medical imaging, or neutron tomography.
Original Press Release
Andor Launches Fibre-Optic sCMOS for Superfast High-Energy Detection
Press release date: June 26, 2014
Market leading platform for high speed, high resolution and ultrasensitive detection of X-Rays and Neutrons
Belfast, Northern Ireland -- Andor Technology Ltd., an Oxford Instruments company and world leader in scientific imaging and spectroscopy solutions, today announced the launch of its new 'Zyla 5.5 HF' fibre-optic coupled sCMOS, Andor's fastest and highest resolution platform for high-energy X-ray and neutron 'indirect' detection. This latest addition to the Zyla family builds on the market-leading performance of Andor's sCMOS family, offering an unparalleled combination of high resolution 5.5 megapixel array with 6.5 µm pixel, 100 frames per second sustained acquisition rate and ultra-low 1.2 e- readout noise.
A high resolution fibre optic design maximises photon throughput and ensures the highest image fidelity relay from the scintillator. A modular architecture allows the coupling of a wide range of scintillators, fibre-optic tapers and Beryllium filters, allowing configuration of the Zyla HF to seamlessly match the requirements of applications such as X-ray materials imaging, non-invasive X-ray bio- and medical imaging or neutron tomography. The compact size of the feature-packed Zyla HF also makes it the ideal platform for space-constrained research set-ups or OEM instruments.
Antoine Varagnat, Product Specialist at Andor Technology, said; "Andor's Zyla HF provides a fantastic answer to the speed and noise limitations of traditional fibre-coupled based CCDs for fast transient or multi-acquisition high energy photon detection. Collecting very high resolution images at more than 100 frames per second with high contrast is of great benefit for applications such as extended patient X-ray biomedical diagnostics, X-ray imaging for process control or 3D neutron tomography. It is a perfect complement to Andor's iKon and Newton fibre optic CCDs for slower, higher contrast X-Ray or neutron diagnostics."
Enquiries:
For further information please contact Victoria Gault on +44 (0)28 9023 7126, email
press@andor.com
, or visit
http://www.andor.com/zyla-hf
.
About Andor
Andor is a global leader in the pioneering and manufacturing of high performance scientific imaging cameras, spectroscopy solutions and microscopy systems for research and OEM markets. Andor has been innovating the photonics industry for over 20 years and continues to set the standard for high performance light measuring solutions, enabling its customers to break new ground by performing light measurements previously considered impossible. Andor's digital cameras, are allowing scientists around the world to measure light down to a single photon and capture events occurring within 1 billionth of a second.
Andor now has over 400 staff across 16 offices worldwide, distributing products to over 10,000 customers in 55 countries. Andor's products are used in a wide range of applications including medical research to further the understanding of heart disease, cancer and neuronal diseases such as Alzheimer's and Parkinson's disease. Andor also has applications for forensic science and astronomy. Through continuous dialogue with customers and strong teamwork, Andor continues to innovate ground-breaking products that improve the world in which we live.
About Oxford Instruments plc
Oxford Instruments designs, supplies and supports high-technology tools and systems with a focus on research and industrial applications. Innovation has been the driving force behind Oxford Instruments' growth and success for over 50 years, and its strategy is to effect the successful commercialisation of these ideas by bringing them to market in a timely and customer-focused fashion.
The first technology business to be spun out from Oxford University, Oxford Instruments is now a global company with over 2300 staff worldwide and is listed on the FTSE250 index of the London Stock Exchange (OXIG).  Its objective is to be the leading provider of new generation tools and systems for the research and industrial sectors with a focus on nanotechnology. Its key market sectors include nano-fabrication and nano-materials. The company's strategy is to expand the business into the life sciences arena, where nanotechnology and biotechnology intersect.
This involves the combination of core technologies in areas such as low temperature, high magnetic field and ultra high vacuum environments; Nuclear Magnetic Resonance; x-ray, electron, laser and optical based metrology; atomic force microscopy; optical imaging; advanced growth, deposition and etching.
Oxford Instruments aims to pursue responsible development and deeper understanding of our world through science and technology. Its products, expertise, and ideas address global issues such as energy, environment, security and health.