Product News: Communication Systems & Equipment
Fiber Optic Amplifier features fast response rate.
Press Release Summary: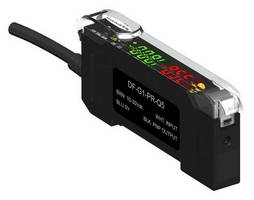 May 20, 2014 - Able to achieve 10 µsec response time with 5 µsec repeatability, DF-G2 provides visibility-optimized, dual digital display for signal level and threshold values. Interface facilitates setup and programming through displays and switches and buttons or via remote input teach wire. Complete user control is available regarding manipulation of all operating parameters, including switch point threshold, light/dark operate, output timing functions, electronic gain level, and sensor response speed.
Original Press Release
Banner Engineering Fiber Optic Amplifier Features World's Fastest Response Rate
Press release date: May 13, 2014
DF-G2 Fiber Optic Amplifier

Minneapolis, MN — Banner Engineering enhances its fiber optic sensors product line with the DF-G2 fiber optic amplifier. Boasting the world's fastest response rate, the DF-G2 can achieve a 10-microsecond response time with 5-microsecond repeatability.

In addition to quick response rates, Banner's DF-G2 provides an easy-to-read dual digital display for highly visible signal level and threshold values. Featuring an intuitive interface, the sensor ensures simple set-up and programming through displays and switches and buttons, or via remote input teach wire. The DF-G2 also offers complete user control, providing manipulation of all operating parameters, including switch point threshold, light operate or dark operate, various output timing functions, electronic gain level and sensor response speed.

"With best-in-class response speeds of 10µs or 15 µs with only 5 µs repeatability error, the DF-G2 balances response speed with precision for critical positioning applications," said Dennis Smith, Technical Marketing Manager, Banner Engineering. "The DF-G2 amplifier combines amazing speed with greatly increased sensing range to ensure efficient and reliable detection in diverse applications and industries."

Offering six different expert TEACH and SET methods, operators can achieve optimal gain and threshold selection for each application—particularly for high-speed or low-contrast environments, such as small part or clear object detection.

The DF-G2 features thermally stable electronics, which help minimize warm-up drift and enable multiple amplifiers to be mounted side-by-side, with no reduction in the ambient temperature limit. Inherent thermal stability also provides cost-saving advantages by reducing machine start-up time and eliminating production delays due to ambient temperature changes. For additional flexibility, an intricate cross-talk avoidance algorithm allows two fiber optic assemblies to be mounted in close proximity, sensing different features of the same target.

For more information on the DF-G2 fiber amplifier, visit www.bannerengineering.com.

About Banner. Banner Engineering is a world-leading manufacturer of photoelectric and ultrasonic sensors, indicator lights, vision sensors and vision lighting, electronic machine safeguarding systems, wireless networks, fiber optic assemblies and precision measurement systems.

For further information, contact Banner Engineering Corp., 9714 Tenth Avenue North, Minneapolis, MN 55441.
PH: 888.373.6767 (Toll-free North America), or 001.763.544.3164 (International).
FAX: 763.544.3213.
Email: sensors@bannerengineering.com.
E-commerce: www.bannerengineering.com/buyonline