Product News: Sensors Monitors & Transducers
Ferromagnetic Sensor provides vehicle detection.
Press Release Summary: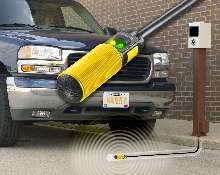 January 16, 2004 - Utilizing magnetoresistive-based passive sensing technology, M-GAGE® S18M detects 3-dimensional changes in Earth's magnetic field when presence of large metal objects such as car, truck, or railcar is introduced, causing sensor's output to switch. Unlike inductive loop technologies, self-contained sensor functions as receiver and has no external controller. Program commands can be entered through pushbutton on sensor or via portable programming box when sensor is inaccessible.
Banner Engineering Corp. - Minneapolis, MN
Original Press Release
Patented Ferromagnetic Sensing Technology Delivers Most Reliable Vehicle Detection
Press release date: January 9, 2004
Minneapolis, MN-January 9, 2004-Banner Engineering Corp. has announced their M-GAGE® S18M vehicle detection sensor. Utilizing Banner's patented use of magnetoresistive-based passive sensing technology, the M-GAGE S18M reliably detects 3-dimensional changes in the Earth's natural magnetic field when the presence of a large metal (ferromagnetic) object such as a car, truck or railcar is introduced Ñcausing the sensor's outputs to switch. Unlike existing inductive loop technologies, this unique sensor features a completely self-contained design, functioning as the receiver and using the Earth's own magnetic field as its signal source. Sophisticated on-board technologies allow the M-GAGE S18M sensor to automatically "learn" its own environment, determining ambient background characteristics and storing them in the sensor's on-board non-volatile memory. "Banner's new M-GAGE sensor has reinvented vehicle detection sensing with an easy-to-install solution that delivers greater accuracy, repeatability and durability," said Scott Springer, Banner's Manager for Strategic Market Development. "The M-GAGE is ideal for vehicle sensing applications such as detection of a vehicle at a car wash entry/exit or at a fast food drive up kiosk, a tractor trailer at a loading dock or a forklift passing through an automatic overhead door," Springer added. "Unlike traditional inductive loop sensing technologies, the M-GAGE has no external controller, installs easily above or below grade and offers long-term trouble free sensing," Springer also said. With its completely self-contained design, the M-GAGE S18M makes sensor replacement if necessary quick and easy-with no disruption of traffic or damaging cuts to the roadway. Simple push-button programming makes setting up the M-GAGE S18M easy. Program commands can be entered through a push button directly on the sensor or via a portable programming box when the sensor is mounted underground or is otherwise inaccessible. The sensor is constructed of a durable ABS/polycarbonate blend molded housing and operates in temperatures from -40° C to +70° C (-40° F to +158° F) and meets IP67 and NEMA 6P environmental ratings. Pricing for the M-GAGE S18M begins at $209.00. Banner Engineering is the world's leading manufacturer of photoelectric and ultrasonic sensors, fiber optic assemblies, electronic machine guarding systems, and precision measurement systems. For further information, contact: Banner Engineering Corp., 9714 Tenth Avenue North, Minneapolis, MN 55441. PH: 888-373-6767 (Toll-free North America), or 001-763-544-3164 (International). FAX: 763-544-3213. email: sensors@bannerengineering.com e-commerce:
www.buybanneronline.com
Web:www.bannerengineering.com Direct link to product info at: bannerengineering.com/prmgage