Fastener System prevents tampering with sensitive equipment.
Press Release Summary: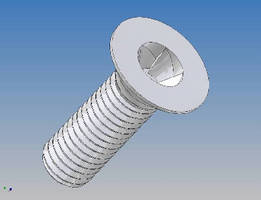 August 7, 2012 - Combining special screw geometry with matching assembly tool, LocTec Screw Drive makes it impossible to loosen or remove fasteners after assembly without destroying joint. Attempting to do so causes tool to rotate out of screw head on its own. Dismantling is only possible by drilling out screw or cutting slot in screw head. In addition to protecting electronics enclosures and fuse boxes, system is suited for solar modules that must be protected against unauthorized access.
ARNOLD UMFORMTECHNIK GmbH & Co. KG - D-74670 Forchtenberg-Ernsbach, DEU
Original Press Release
Innovative Tamper-Proofing for Sensitive Equipment
Press release date: August 3, 2012
New tamper-proof fastener system provides maximum security Cannot be loosened using conventional means Reduces costs by eliminating supplementary assembly and security material Ensures easy interchangeability with existing fastener systems

Our love affair with technology is creating more and more demand for security and access restriction systems, even in the industrial sector. Highly sensitive equipment must be protected against improper use, and misappropriation of innovative technology must be prevented by suitable security mechanisms. Over the years, a variety of fastener systems have been developed specifically for these use scenarios, with varying degrees of success.

In light of constantly evolving industrial expertise in all sectors, protection of highly sensitive equipment against unauthorised access is becoming more and more important. This applies equally well to the plastics industry, where electronics enclosures and fuse boxes containing highly sensitive devices and components must be protected against improper use and unauthorised access, and to the renewable energy sector, where solar modules must be protected against theft. In both cases, intelligent security mechanisms that ensure operational security are necessary.

Using special fasteners to secure such equipment has been common practice for many years. A wide variety of more or less practical solutions have been devised, including breakaway screws and nuts, secure drive systems that require special tools for loosening, and hammering small ball bearings into drive recesses. The main areas where improvement is needed are enhancing the reliability of tamper protection, increasing installation speed, and preventing injuries from protruding sharp edges or the like.

In response to the need for improvements to existing systems, Arnold Umformtechnik, a manufacturer of innovative fastener systems, has developed the LocTec screw drive. This system combines a special screw drive geometry with a special assembly tool, making it impossible to loosen or remove the fasteners without destroying the joint. The screw head has a special drive recess (Figure 1) that only allows the fastener to be screwed in with a matching tool (Figure 2). Countless combinations of this sort are available, but in most cases the special tools necessary for dismantling them have now become freely available on the Internet. This is where Arnold Umformtecniks patented LocTec system comes to the fore. The flank shape of the drive recess makes it impossible to loosen the screw after assembly, even with the special tool. Attempting to do so causes the tool to rotate out of the screw head on its own. Dismantling is only possible by drilling out the screw or cutting a slot in the screw head. Both options void the warranty, and they hinder theft due to the considerable amount of noise generated by these processes.

Other security measures, such as ball bearings, locknuts or thread locking compounds, are no longer necessary. This leads to enormous cost savings. Furthermore, there is no need to modify the fixing device, the joint or the process technology. The LocTec system can be supplied with design features tailored to individual customer requirements and is available for commonly used types of screws and nuts.

SALES DEPARTMENT
Phone: 001 248 390 1715
Fax: 001 248 390 1715
info@arnold-usa.com

ARNOLD UMFORMTECHNIK GmbH & Co. KG
Carl-Arnold-Strasse 25
D-74670 Forchtenberg-Ernsbach
Germany
Michael PULT
Phone: +49 (0)7947/821-170
Fax: +49 (0)7947/821-195
michael.pult@arnold-umformtechnik.de