Product News: Computer Hardware & Peripherals
Fanless Touchscreen Computer provides infotainment in hospitals.
Press Release Summary: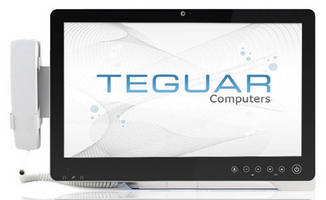 February 19, 2014 - Intended for patient entertainment and medical use, TME-2240-19 bedside infotainment terminal is medically EN 60101-1 certified and made with anti-bacterial materials. Features include VOIP phone with handset and cradle, webcam, built in speakers, and projected capacitive 18.5 in. screen with HD resolution. Powered by 1.4 GHz, 2M cache Intel® Celeron® 1047UE processor, medical computer has fanless design for silent operation so patients sleeping next to it are not disturbed.
Original Press Release
Touch Screen Computers Replacing Hospital TV's
Press release date: February 18, 2014
Teguar Computers brings infotainment medical computers to bedsides worldwide.
Charlotte: Teguar Computers combines patient entertainment and medical computer uses on one platform with the TME-2240-19 Infotainment Terminal. Their new medical computer is setting the future standard for bedside terminals in healthcare environments by replacing the old obtrusive TV screens with medically certified touch screen computers for uses such as video calls, meal ordering, nurse station communication, interactive medical education, and favorite movie time viewing.
Doctors, nurses and health care professionals understand that a happy patient is a good patient. Bedside Terminals need to be used for more than information or entertainment alone as multiple screens and devices are costly and cumbersome. Patients have become accustom to their personal devices which can be unsanitary and not safe with sensitive medical electronic equipment. The solution provided is to give patients beside medical computers which can be used in a way that is gratifying and comforting for them so that they may even forget they are in a hospital for a moment.
Teguar's medical computer TME-2240-19 Infotainment Terminal is medically EN 60101-1 certified and made with advanced anti-bacterial materials. Its Intel Celeron 1047UE 2M Cache 1.4GHz processor is designed to work with fast moving applications and software. The projected capacitive crisp and bright 18.5" screen combined with HD graphics provides users with a considerable interactive display. Communication in hospitals is a priority both between patients, friends, family and health care professionals. The VOIP phone with handset and cradle, a webcam and built in speakers have every area covered. Ensuring quiet when needed is important as well. As a fully fanless computer, the TME-2240-19 operates silently enabling patients sleep soundly right next to it.
"I find that everything I can do to make patients content in their environment is helpful to the healing process as well as to getting my job done," said Coleen Coney, registered nurse. She went on to say "Patient education is essential to patient wellness and having a medical computer screen with patient interactive software on it would be ideal."
The TM-2240-19 Infotainment Terminal is now available. For more information please contact Teguar sales team at
Sales@teguar.com
call 1 800 970 7715 or visit
www.teguar.com
.
Company profile:
Headquartered in Charlotte, NC, Teguar is a leading provider of custom fully enclosed, fanless, waterproof, and medical grade touch screen 24/7 specialized computer solutions. Teguar computers are designed to perform in extreme environments including clean rooms, outdoor in all weather types, oil rigs and manufacturing floors. Our dynamic and experienced team keeps pace with changing industry trends whether in industrial automation, food, medical or digital signage applications. We also ensure that our staff is up to date with the most innovative technology and always offer state-of-the art solutions to meet the fast changing market demands. With Teguar's hardware, customers can build a reliable system and experience a fast Return of Investment.
Contact:
Shira Sagal
ssagal@teguar.com
Phone: (704) 960-1761
Fax: (877) 870-3377
4235 South Stream Blvd. Ste L130
Charlotte, NC 28217
www.teguar.com