Product News: Computer Hardware & Peripherals
Fanless Panel PC suits industrial automation application.
Press Release Summary: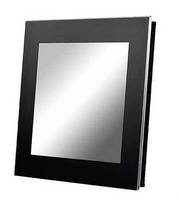 November 23, 2012 - Powered by 1.86 GHz Intel® Atom™ dual-core processor D2550 and Intel NM10 chipset, FUDA features 5-wire resistive single touchscreen and aluminum front bezel. Cable-less design, with 50 mm thick console tested to IP65 standards, includes ultra-slim HDD tray, CF cover, and choice of 10.4–19 in. display. I/O board docking and COM port are selectable by BIOS, and APIs and EtherCAT support are standard. Operating from 0 to +50°C and 5%–95% RH, PC resists vibrations to 1 G and shock to 15 G.
American Portwell Technology - Fremont, CA
Original Press Release
Portwell Release A Slim, Fan-free Panel PC Series Assembled with Intel Atom Cedarview Dual-Core Processor
Press release date: November 6, 2012
FREMONT, CALIF. – American Portwell Technology, Inc., (http://www.portwell.com) a wholly owned subsidiary of Portwell, Inc., a world-leading innovator in the Industrial PC (IPC) market and a Premier member of the Intel Intelligent Systems Alliance, announces the release of the FUDA Panel PC, featuring Intel Atom dual-core processor D2550 1.86 GHz and Intel NM10 chipset. The FUDA 5-wire resistive single touch screen and aluminum front bezel come standard. With its ultra-slim, lightweight, HDD tray, CF cover and cable-less design, the FUDA Panel PC series is stylish and fan-free. Its flexible I/O board docking and COM port are selectable by BIOS. In addition to operating in a wide DC input ranges, the FUDA panel PCs are tested to IP65 water and dust resistant standards.  The FUDA also comes equipped with APIs and EtherCAT support. With all these great features, the FUDA Panel PCs are ideal for Industrial Automation and the Food & Beverage Industries.

The New Standard for the Industrial Panel PC While it has an attractive appearance and a stylish stainless steel or aluminum front bezel, the FUDA is also rugged and capable of operating in harsh environments with temperatures ranging from 0° to 50° C and relative humidity of 5% to 95%. It is also resistant to vibrations up to 1G and shock up to 15G. The aluminum front bezel is IP65 certified as non-corrosive and can be customized to true flat overlay in order to conform to DIN EN 1672-2 and DIN 42115-2 standards, which permit the use of various cleaning solvents.

Versatile and Efficient
FUDA also offers a full HD Video decoder to deliver greater graphics performance. Application Programming Interface (API) and EtherCAT support system integration of HMI and Cloud Computing efficiently, which enables quick and efficient changes or updates by way of Internet when necessary. This cable-less model has an easily removable back cover, HDD tray and CF cover. It comes equipped with an I/O board docking design and a Golden Finger connector with a RS-232/433/485 option via BIOS for the use of additional peripheral legacy devices. All of these features are packed within a slim 50mm thick console and designed with a choice of display sizes of 10.4½ to 19½. Furthermore, FUDA supports both VESA and panel mounting for more flexible installations.

Using Only the Best Components
Only the best components went into the FUDA design. The low power Intel Atom D2550 CPU with the Intel NM10 chipset (formerly Cedar Trail) platform utilizes only 40W when operating and 8W while in sleep mode. It also has a wide DC input of 12~24V (±20%) and an auto loss power-on feature in the event of power loss. Furthermore, with its aluminum tooling, heat sink and thermal pad, the FUDA is truly a fan-free, cool-running system.

With its refined appearance and multiple modular flexibility, FUDA's application-oriented design and rigid laboratory testing provides customers a solution with high performance at a low cost.

At Portwell, we strive for excellence, and the FUDA is yet another example of the multitude of superior products designed and manufactured at our facilities. We challenge ourselves constantly to understand our customers' unique business needs and are committed to meeting their demands.

Product details:
http://www.portwell.com/products/detail.asp?CUSTCHAR1=FUDA-S1010
http://www.portwell.com/products/detail.asp?CUSTCHAR1=FUDA-S1510

About American Portwell Technology
American Portwell Technology, Inc., is a world-leading innovator in the embedded computing market and a Premier member of the Intel® Intelligent Systems Alliance. American Portwell Technology designs, manufactures and markets a complete range of PICMG computer boards, embedded computer boards and systems, rackmount systems and network appliances for both OEMs and ODMs. American Portwell is an ISO 9001:2008, ISO 13485:2003 and ISO 14001:2004 certified company. The company is located in Fremont, California. For more information about American Portwell's extensive turnkey solutions and private-label branding service, call 1-877-APT-8899, email info@portwell.com or visit us at http://www.portwell.com.

All products and company names referred to herein may be trademarks or registered trademarks of their respective companies or mark holders.

Product Contact:
Sean Kang
Product Engineer
American Portwell Technology, Inc.
510-403-3361
seank@portwell.com

Media Contact:
Susan Wei
Marketing Executive
American Portwell Technology, Inc.
510-403-3354
susanw@portwell.com