Product News: Computer Hardware & Peripherals
Fanless Mini Personal Computers come with 1 TB capacity SSD.
Press Release Summary: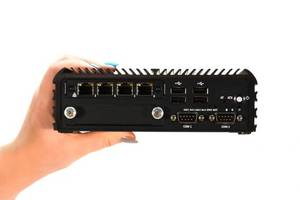 May 5, 2017 -
Suitable for industrial, commercial, defense and mining applications, Fanless Mini Personal Computers operate in -25 to 70°C temperature range with 9-48V DC power input. Available in LPC-815 and LPC-835 models, units are designed with RS232 Serial, USB 3.0/2.0 and DisplayPort I/O ports. LPC-815 measures 150 x 105 x 49 mm in size and weighs 0.86 kg whereas LPC-835 Model comes with multiple drives and Raid support. Units meet CE, FCC and RoHS standards.
Original Press Release
Sparton Rugged Electronics Introduces New Wide Temperature Rugged Mini PCs
Press release date: May 1, 2017
Sparton Rugged Electronics under the brand Stealth.com, a leader in the industrial rugged computer and peripherals market has launched a pair of wide temperature range Mini PCs. These new rugged fanless computers models LPC-815 & LPC-835 provide an extended operating temperature range and are designed for a variety of demanding environments and applications.
These wide temperature range computers are new additions to our recently launched LPC-800 series and add the ability to operate in temperature ranges of -25 to 70C (-13 to 158 F), beyond what is found in typical consumer operations.
The wide temperature Mini PCs are completely fanless and operate without noisy cooling fans which could draw in dirt and dust potentially causing catastrophic failures. SSD (Solid State Drives) with options up to 1TB in capacity are also utilized to meet extreme environmental conditions including high vibration, shock and humidity specifications.
The LPC-815 model is extremely small and can fit in the palm of your hand measuring just 5.9" (W) x 4.13" (D) x 1.9" (H) (150mm x 105mm x 49mm) in size. Weighing in at just 1.9 pounds (0.86kg) the LPC-815 is well equipped with abundant I/O ports and configurable options.
The LPC-835 model adds additional performance with Intel 5th Gen Core i5 or i7 mobile processors and functionality, such as RAID, with support for two drives including a single front removable drive bay and expanded I/O ports.
The LPC-815 & LPC-835 can operate on a wide range of 9-48V DC power input making it an ideal fit for mobile, marine, transportation, field and remote based applications. They also come equipped with DIO (Digital input/output) ports with isolation. The new feature gives the advantage of providing electrical isolation of digital signals.
"Our new wide temperature mini PCs expands our recently launched LPC-800 series with ability to operate in extremely demanding environments. Versatile and robust they represent some of the most rugged small form factor computers we have offered to date" stated Louis Houde, Business Unit Director of Sparton Rugged Electronics.
Wide temperature computers are an excellent choice for demanding applications within the Industrial, Commercial, Scientific Research, Military / Defense, Marine, Public Safety, Utility, Transportation, Mining and Telecommunications markets.
Systems are compatible with Microsoft Windows, Linux and can be custom configured to meet the exact needs of the OEM or end user. Systems come standard with 2 year warranty and extended warranty options are available. Basic configurations of the LPC-815 & LPC-835 Fanless Mini PCs start at $1,495.00 USD and $2,395.000 USD respectively.
Product Series Features
Wide Range Temperature Operation -25 to 70°C (-13 to 158°F).
Rugged Fanless Design for silent operation
Wide Range 9-48V DC Input, ideal for mobile/field
Solid State Drives (SSD) standard, options up to 1TB capacity
Multiple Drives and Raid support (LPC-835 Model)
DIO (Digital input/output) ports
Abundant I/O: RS232 Serial, USB 3.0/2.0, Gigabit LAN, DisplayPort & DVI-I video
Windows 10, 8.1, 7 & Linux Compatible
CE, FCC & RoHS certificated
2 years warranty standard
About Sparton Rugged Electronics
Sparton Rugged Electronics offers displays, computers and other ruggedized electronics for the defense, marine, industrial and air traffic control markets. We are part of the Sparton Corporation, a global leader with over 100 years of experience in the contract design and manufacture of electromechanical devices for the military, aerospace and other industries. The leading brands Aydin and Stealth.com, which share Sparton's mission of providing innovation and rigorous quality. We help our customers conquer complexity and succeed in even the most demanding and harsh environments. The Sparton Rugged Electronics website may be accessed at www.spartonre.com.
About Sparton Corporation
Sparton Corporation (NYSE:SPA), now in its 117th year, is a provider of complex and sophisticated electromechanical devices with capabilities that include concept development, industrial design, design and manufacturing engineering, production, distribution, field service, and refurbishment. The primary markets served are Medical & Biotechnology, Military & Aerospace, and Industrial & Commercial. Headquartered in Schaumburg, IL, Sparton currently has thirteen manufacturing locations and engineering design centers worldwide. Sparton's Web site may be accessed at www.sparton.com.
Contact:
Andrew Pakula
Sparton Rugged Electronics
Stealth.com (a Sparton company)
4-530 Rowntree Dairy Road
Woodbridge, ON, L4L 8H2
Phone: 905-264-9000 ext #243
E-mail: marketing@spartonre.com