Fanless, IP65-Rated Front Bezel HMIs come in widescreen models.
Press Release Summary: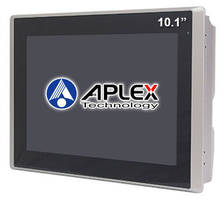 August 29, 2014 - While ARCHMI-710(P) leverages 1.6 GHz Intel® Atom™ N2600 CPU and has 2 GB onboard DDR III (800 MHz), ARCHMI-721(P) employs 1.86 GHz Intel Atom D2550 CPU and 4 GB onboard DDR III (800 MHz). Both models, featuring 16:9 aspect ratio screens with respective 10.1 and 21.5 in. LCDs, come in aluminum die-cast enclosure and operate up to 50°C. Optional PCT enables 7H hardness anti-scratch and FPD design, while various I/O and storage options afford flexible implementation.
Original Press Release
APLEX Launches Wide Screen HMI at Various LCD Sizes
Press release date: August 25, 2014
Adopting Intel Atom N2600 and D2550 Solution with Solid Aluminum Die-Cast Housing and Fitting More Industrial Applications
Taipei, Taiwan – APLEX Technology Inc., a global industrial computer product solution provider, today introduces two brand new members of  ARCHMI-7XX series - ARCHMI-710(P) & ARCHM-721(P) that feature 16:9 aspect ratio screen with LCD size 10.1" and 21.5" respectively.  The 10.1" ARCHMI-710(P) with Aluminum die-cast enclosure and IP65 certified front panel offer superior heat dissipation and water proof protection.  These two models are equipped with flat panel design and deliver ease of cleaning, maintenance and dust free benefits for industrial-grade applications such as factory automation, vision controller and digital signage and so on.
True and High Quality Content
The demand for wide screen displays continues to surge and part of the reason is that 16:9 format implies high definition content and shows 25% more of an image than 4:3 format, thus delivering compelling viewing experiences to users.  Powered by Intel Atom N2600/D2550, APLEX's ARCHMI-710(P)  and ARCHMI-721 (P) with fanless design provide operating temperature up to 50°C and IP65 compliant front panel avoids damage from spilled liquid.  Thus, featured with slim size and low power consumption, APLEX's ARCHMI-710(P) and ARCHMI-721(P) are optimized for a broad range of industrial applications.  Additionally, ARCHMI-710(P) and ARCHMI-721(P) support optional PCT (Projected Capacitive Touchscreen) that enables 7H hardness anti-scratch and FPD design, which makes it appealing without compromising its performance.
A Complete LCD Line Up and Meet A Complex Applications
ARCHMI-7XX series offers a variety of LCD sizes: 7"/8"/10"/12"/15"/17" and 21".  Some of them are standard 4:3 format and others are widescreen aspect ratio. With these options, ARCHMI-7XX series is ideal for a broader range of applications including factory automation, KIOSK, vision controller and digital signage and also for helping with user installation more effectively by supporting both panel mount and VESA mount. ARCHMI-7XX series supports two kinds of touch screen selection: resistive touch and projected capacitive touch which offer flexibility to accelerate deployment of price sensitive subscribers and those who value appealing appearance.
Stylish Design with Rich I/O
APLEX ARCHMI-7XX series features a combination of smart storage and APLEX unique thermal design.  Thus it provides an easily accessible storage and remains a slim mechanical design.  Although it's slim, it is equipped with rich I/O functionalities including:  2 x USB 2.0, 2 x GbE LAN RJ-45, 1 x RS-232, 1 x RS-232/422/485 (Default RS-232), 1 x Audio Line Out,1 x HDMI Port,1 x 3-pin DC Power input terminal and 1 x 2-pin power switch.  Besides, ARCHM-7XX series offers storage capabilities with 1 x SD slot up to 32GB and 1 x 2.5" STATA HDD.
Availability
ARCHMI-710(P) and ARCHMI-721(P) will be sampling on mid. of September and early of October.  For more product information, please contact our sales at: sales@aplex.com.tw for details.
Features of ARCHMI-710(P) & ARCHMI-721(P)
• 10.1" / 21.5" Industrial compact size panel PC
• Flat front panel touch screen
• Fanless design
• ARCHMI-710 Intel Atom N2600 1.6GHz CPU built-in
ARCHMI-721 Intel Atom D2550 1.86GHz CPU built-in
• ARCHMI-710 onboard 2GB DDR III 800 MHz
ARCHMI-721 onboard 4GB DDR III 800 MHz
• 9~36VDC wide range power input
• IP65 compliant front panel
• Optional projected capacitive touchscreen support 7H anti-scratch surface
About APLEX
APLEX Technology Inc. is one of the leading brands in industrial computer products.  APLEX is dedicated to satisfying customer's needs by offering a  comprehensive solutions and applications including industrial panel PCs, Human-machine interfaces (HMI), industrial display, embedded Box PCs. Besides standard products, APLEX also offers customized or OEM/ODM project service to meet special needs of clients.   APLEX product applications range from factory automation, transportation, retail, hospitality, environmental monitoring, warehousing, medical, to health care.  For more information, please go to
www.APLEX.com.tw
Press Contact
Joyce Chiang
APLEX Technology, Inc.,
Tel: +886-2-8226-2881 ext.: 554
Fax: +886-2-8226-2883
E-Mail:
joycechiang@APLEX.com.tw