Fanless Embedded Controller offers up to 8 GbE LAN connections.
Press Release Summary: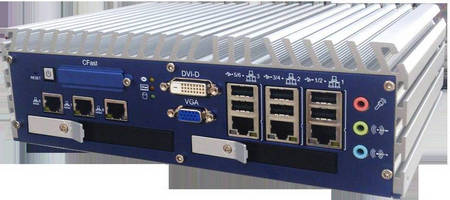 August 22, 2012 - Supporting up to 3.00 GHz 2nd Gen Intel® Quad-Core(TM) i7-2710QE Processor with 6M Cache, ECS-5600-8R offers dual-channel 16 GB RAM (max), DVI-D/HDMI and VGA dual display capabilities, and -25 to +70°C operating range. I/O includes 6 USB; 8 RJ-45 Gigabit Ethernet; CFast; 2 eSATA; 2 mini-PCIe, one with SIM card socket for WiFi or 3G/GPRS; 3 RS-232; one RS-232/485/422; and 8 GPIO. There are also 2 front panel-accessible SATA III (6 Gbps) 2.5 in. HDD/SSD trays with key locks.
Original Press Release
Vecow Unleashes 8 GbE LAN Fanless Embedded Controller Escalates Profit Possibility
Press release date: August 20, 2012
Taipei, Taiwan - Vecow Co., Ltd., a front-runner in the application fields of embedded system, image processing, and intelligent automation, today announces new high-performance fanless embedded controller ECS-5600-8R of ECS-5600 family, not only enables 2nd Gen Intel® Quad-Core(TM) i7-2710QE Processor (6M Cache, up to 3.00 GHz) and maximum dual channel 16GB ram, DVI-D/HDMI and VGA dual display, CFast, two 2.5" SATA 6Gp/s HDD/SSD trays, 2 miniPCI-express with SIM card supports for WiFi, 3G/GPRS, and 2 eSATA ports, ECS-5600-8R extends to 8 GbE LANs and still keep outstanding thermal design for -25 degree to +70 degree Celsius industrial operating temperature range. Engineering designed for machine vision, intelligent automation, intelligent manufacture system, and process control applications, ECS-5600-8R provides powerful multi-core processor with iAMT, 16GB ram, 8 gigabit Ethernets, and rich I/O. In comparison with the previous processors, the 2nd Gen Intel® Quad-Core(TM) i7-2710QE Processor (6M Cache, up to 3.00 GHz) improves computing performance and graphics capabilities, as well as security management for advanced security and remote support. For better remote diagnosis and problem-solving ability through the network, Intel® Active Management technology (Intel® AMT) decreases virus infection possibility with system defense, stores hardware information automatically. ECS-5600-8R extends Ethernet to 8 LANs for real time computer network technologies for automation and process control in extreme temperature, humidity, and vibration environment. Speed up from 9.6 kb/s to 1 Gb/s, Ethernet provides a stable and speedy data transmission option for high bandwidth required environments and supports Ethernet Control Automation Technology (EtherCAT) application. Aiming to provide various applications, ECS-5600-8R equipped with 6 USB, 8 RJ-45 Gigabit Ethernet ports, CFast , 2 eSATA, 2 mini-PCIe (1 with SIM card socket for WiFi, 3G/GPRS), DC-Jack Connector, 3 RS-232 and 1 RS-232/485/422, 8 in/out GPIO, and 2 front panel accessible SATA III (6Gb/s) 2.5" HDD/SSD trays with key locks. More information about Vecow ECS-5600-8R High-performance Extended Fanless Embedded Controller may be found on the company's website at
www.vecow.com
. About Vecow Co., Ltd. Vecow has been devoted to designing and developing high quality products with innovative technology since it was founded. Our application fields of factory/machine automation, high-speed data acquisition, DIO, digital signage, medical and home automation and environment surveillance are credited to Vecow high-efficient design services. Media Contact: Lili Chen Sales and Marketing Division info@vecow.com Lili Chen Sales & Marketing Division 7F., No.105, Zhongcheng Rd., Tucheng Dist., New Taipei City 23674, Taiwan (R.O.C.) Tel :886 2 2268 5658 Ext. 116 Fax:886 2 2268 1658