Product News: Mechanical Power Transmission
Explosion Proof Motors feature IP55 rating.
Press Release Summary: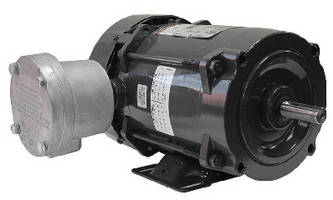 July 10, 2014 - Suitable for applications requiring UL and/or CSA certification for hazardous locations, Fractional HP Explosion Proof Motors include 2-pole and 4-pole TEFC single-phase models ranging from 1/3–2 hp and 1/3–1.5 hp, respectively. Three-phase versions include 2- and 4-pole TENV at 1/3 hp, 2-pole TEFC from ½–3 hp, and 4 -pole TEFC from ½–2 hp. Rated for 122°F ambient, motors feature class F insulation, foot mount with and without C flange, long leads for remote wiring, and aluminum endshields.
Original Press Release
WEG Electric Introduces Fractional Horsepower Explosion Proof Motors!
Press release date: July 8, 2014
Atlanta, GA — WEG Electric's full line of NEMA Premium and High Efficiency Explosion Proof motors is now joined by a complete line of fractional HP motors in both single phase and three phase models. This complements the existing line of integral explosion proof motors and now offers the customer a complete Explosion Proof solution.
They are available as TEFC single phase motors in 2-pole from 1/3HP to 2HP and 4-pole from 1/3HP to 1.5HP. Three phase motors are available as TENV for 1/3HP 2 and 4-pole, TEFC in 2-pole from 1/2HP to 3HP and 4-pole from 1/2HP to 2HP.
Key features of the new WEG fractional HP explosion Proof motors include;
• Class F insulation
• 50°C ambient temperature rating
• Service factor of 1.0
• Long leads for remote wiring
• Thermally protected
• IP 55 rating
• Class I – Group C & D and Class II – Groups E, F & G – T3C
• Foot mount with and without C flange
• Unassembled aluminum conduit box included
• Aluminum endshields
• Three Phase motors also rated for 50Hz (next lower rating)
These motors are suitable for applications requiring UL and/or CSA certification for hazardous locations. Unlike the competitor motors, this product line comes rated for 50oC (122oF) ambient and also with a superior Ingress Protection rating (IP55) making this standard product suitable for the various environmental conditions found in the field.
More information about this new line of motors is available by contacting your WEG distributor or going to
www.weg.net
for an informational brochure.
About WEG Electric Corp.
Founded in 1961, WEG has grown into a global solutions provider of electric-electronic technologies and equipment. WEG is the largest industrial electric motor manufacturer in the Americas and one of the largest manufacturers of electric motors in the world having five main lines: motors, power transmission and distribution, automation and coatings. With over 21 thousand employees it is committed to growth and continued research and development on a global scale.
WEG Electric Corp. Contact:
Gerardo Elias
Marketing Manager, North & Central America
678-249-2022
www.weg.net