Product News: Machinery & Machining Tools
Exchangeable Head Milling System has internal coolant holes.
Press Release Summary: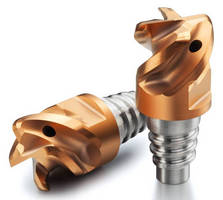 February 6, 2013 - With precisely positioned internal coolant holes that optimize effect of coolant jet, CoroMill 316® can be applied for high-feed face milling, slot milling, helical interpolation, shoulder milling, profile milling, and chamfer milling of components in material groups from ISO P to ISO S. System allows machine shops to switch between various operations, such as cutter type, radius variation, teeth frequency, geometry, and grade. End mills are also suitable for 5-axis milling of flanks.
Original Press Release
CoroMill 316 Exchangeable-head Milling System is Now Available with Internal Coolant
Press release date: February 4, 2013
Fair Lawn, N.J. – The CoroMill 316® exchangeable-head milling system from Sandvik Coromant is a truly versatile system for milling operations. It can be applied for high feed face milling, slot milling, helical interpolation, shoulder milling, profile milling and chamfer milling of components in material groups from ISO P to ISO S.

From March 1, 2013 this high performance system is available with internal coolant holes.

The machining of such materials as heat resistant super alloys, titanium and stainless steels often requires the use of coolant for temperature control and chip evacuation during cutting. Re-cutting of chips and chip jamming, often lead to poor surface quality, damage to the cutting edge and tool breakage.

By offering an internal coolant solution, with precise positioning of coolant holes to optimize the effect of the coolant jet, CoroMill 316® is able to outperform existing solutions with external coolant, guaranteeing superior chip evacuation and a secure cutting process.

The CoroMill® 316 system allows machine shops to quickly, easily and accurately switch between various operations such as cutter type, radius variation, teeth frequency, geometry and grade. CoroMill® 316 end mills are even suitable for five axis milling of flanks which often require tapered tools for stability at longer tool reach.

For more information and a closer look at the CoroMill 316, visit
http://productnews.sandvik.coromant.com/us/#coromill-316/0.

About Sandvik Coromant
Sandvik Coromant is a global leading supplier of cutting tools, tooling solutions and know-how to the metalworking industry. With extensive investments in research and development we create unique innovations and set new productivity standards together with our customers. These include the world's major automotive, aerospace and energy industries. Sandvik Coromant has 8,000 employees and is represented in 130 countries. We are part of the business area Sandvik Machining Solutions within the global industrial group Sandvik.

www.sandvik.coromant.com/us