Product News: Test & Measuring Instruments
Ethernet Temperature Data Loggers feature DHCP compliance.
Press Release Summary: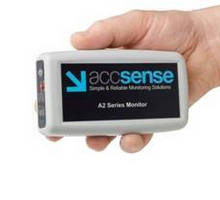 February 15, 2013 - Meeting regulatory specifications, including RFC 2131 standard, Accsense A2-05 serves critical temperature monitoring and alarming applications in healthcare, research, and industry. Each pod measures and records temperature data by connecting to medical storage units with inputs for 2 RTDs and Type T thermocouple. Along with DHCP (Dynamic Host Configuration Protocol) compliance, features include -199 to +400°C measurement range, PoE support, and instant alarming functionality.
Original Press Release
New Firmware Update and DHCP Compliance for Accsense A2-05 Data Loggers
Press release date: February 14, 2013
Real-Time Monitoring and Alarming for Healthcare and Life Science
CHESTERLAND OH—
CAS DataLoggers
announces a new firmware update for its
Accsense A2-05 Ethernet Temperature Data Loggers
which is now available on request by remote update. This latest update resolves previous issues which occurred with DHCP setup. In addition to the upgrade, our A2-05 Data Loggers have also been submitted for DHCP compliance testing and passed, meeting the regulatory specifications including the RFC 2131 standard. Accsense A2-05 Ethernet temperature data loggers are ideal for critical monitoring and alarming applications in heathcare, research and industry. These cost-effective pods monitor wide ranges of temperature in medical fridges, freezers and even liquid nitrogen chambers, with sophisticated alarming functionality which calls, emails and/or texts staff the moment that unsafe temperatures threaten valuable inventories.
Our DHCP (Dynamic Host Configuration Protocol) upgrade enables more effective communication for large installations (such as a hospital's wired LAN network) and gives administrators flexible control while assigning IPs. Previously, some customers with complicated networks had experienced firmware issues often related to communication drops; these have also been resolved in the new update. CAS DataLoggers offers the new update on request from customers as a remote download.
Hospitals and clinics across the country are increasingly turning to real-time medical monitoring to safeguard their high-value materials including vaccines, samples and drugs. Our Accsense Ethernet wired pods measure and record temperature data by connecting to medical storage units with inputs for 2 RTDs and a Type T thermocouple to measure temperatures from -199°C to 400°C. The pods' trouble-free operation means no expensive training sessions—just plug them in and let them log. Accsense continually monitors for your set values and sends out email, text and even phone alarms whenever temperatures suddenly go outside safe ranges, increasing product safety and decreasing staff response times while automatically sending their data to secure Accsense servers. Users can also login through any Web browser to view reports and graphs of their data or configure the system from anywhere Internet connection is available.
Each data logger supplies Power over Ethernet for cost-effective monitoring and is delivered with a power adapter and Ethernet cables. Accsense systems are low-maintenance compared to traditional wiring, so they're easy to learn and operate. In the event of a power failure or network connection loss, A2-05 pods keep running for another 6 hours on their internal lithium batteries, during which the data loggers will continue to buffer data.
As one of the largest data logger distributors in North America, CAS DataLoggers has provided state of the art medical monitoring systems for many distinguished medical and academic institutions including Stanford Hospital and Clinics, the Smithsonian Institute, the Cleveland Clinic Foundation, New York Hospital Queens, and the US Navy Medical Center, among many others.
For more information on our Accsense A2-05 Ethernet Temperature Data Loggers, additional Accsense wired and wireless monitoring systems, or to find the ideal solution for your application-specific needs, contact a CAS Data Logger Applications Specialist at (800) 956-4437 or visit the website at
www.DataLoggerInc.com
. Contact Information: CAS DataLoggers, Inc. 12628 Chillicothe Road Chesterland, Ohio 44026 (440) 729-2570 (800) 956-4437
sales@dataloggerinc.com
www.dataloggerinc.com