Product News: Fluid & Gas Flow Equipment
Engineered OEM Glass is available for tubing applications.
Press Release Summary: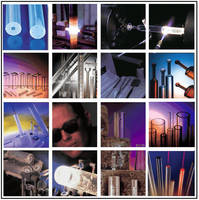 December 14, 2011 - Heat and vacuum shrunk glass and quartz tubing up to 6 in. dia can be delivered to ID tolerances up to ±0.0002 in. on precision stainless steel and molybdenum mandrels. Vertical and horizontal shrinking lend to precise product control over tubes in lengths to 144 in. Fabricators can process assortment of raw materials in various combinations, and concentric and centerless grinding can be performed to same precision tolerances as ID work. Various finishing and other options are available.
Abrisa Technologies - Santa Paula, CA
Original Press Release
Abrisa Technologies Now Provides Engineered OEM Glass for Tubing Applications
Press release date: December 11, 2011
Abrisa Technologies is pleased to announce that they can now provide ultra precision heat and vacuum shrinking of glass and quartz tubing via our partner company, Wilmad LabGlass.
According to Jim Veler, President and CEO for Abrisa Technologies, "This new partnership will allow us to services our current customer base as well as new potential customers with tubing of various diameters up to 6 inches can be shrunk to I.D. tolerances of up to ±0.0002 inch on precision stainless steel and molybdenum mandrels. Capabilities will include both vertical and horizontal shrinking for precise product control over virtually any size tube in lengths up to 144" can be manufactured. Our team's skilled fabricators can process a wide assortment of raw materials in a variety of combinations to produce high precision components.
Examples of Our Custom OEM Glassware Fabrication and Machining:
Precision Bore Shrinking Glass & Quartz Components Glass Lathe Fabrication Precision grinding & Polishing Precision Cutting & Special End Finishing Precision Glass Envelopes & Bulbs Custom Glass & Quartz Fabrication Glass to Metal Seal Square & Rectangular Tubing Quartz Torches & Furnace Tubes Optical Windows Redraw Tubing & rods Production design from Prototype to KanBan Special Coatings Chemical Strengthening
Concentric grinding, where both the O.D. and wall thickness are precisely controlled, and centerless grinding, where the O.D. is controlled, can be performed to the same precision tolerances as our I.D. work. Finishing can include polishing to highly precise optical tolerances as well as beveling, chamfering, ultrasonic drilling and wet saw cutting.
Additional capabilities include precision formed shapes for applications utilizing non-cylindrical glass components, high precision OD polishing for visible and UV applications, and diamond band saw cutting and end finishing ensuring and maintaining rigorous length and perpendicularity tolerances.
To find out more contact the Abrisa Technologies customer service department at (877) 622-7472.
About Abrisa Technologies: Abrisa Technologies is headquartered in Santa Paula, California and is comprised of three divisions that provide precision optical products and services. The divisions include; Abrisa Industrial Glass, Inc., Sycamore Glass Components, and ZC&R Coatings for Optics. As a market leader in optical coatings and high quality precision glass fabrication, Abrisa Technologies is dedicated to providing premier customer service and cost-effective products that fit each customer's exacting requirements.
www.abrisatechnologies.com