Engine Storage Treatment protects from corrosive agents.
Press Release Summary: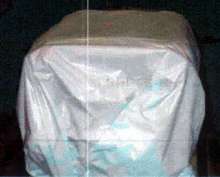 December 4, 2003 - Cortec® VpCI® (Vapor Phase Corrosion Inhibition) protects stored engines from 6 months to 6 years. Patented technology provides continuous protection to ferrous and non-ferrous metals. Liquid concentrate penetrates internal cavities, recesses, and voids, forming micro-thin film by vapor action. External surfaces are protected by wrapping in VpCI® film. Treatment suits commercial, industrial, aircraft, and military applications.
Original Press Release
Engine Lay-Up And Protective Storage Stops Rust And Internal Corrosion
Press release date: November 19, 2003
Utilizing a combination of products for the interior and exterior of an engine, Cortec® VpCI® Engine Treatment offers protection from 6 months to 6 years. Compared to older methods, the Cortec® VpCI® costs up to 50% less to put an engine into storage and 50% less to put the engine back into service. The treatment can be used for commercial, industrial, aircraft, and military applications. Cortec® VpCI® (Vapor phase Corrosion Inhibition) Engine Treatment provides a complete system for protection in just a few steps. 1) clean engine, 2) protect engine interior by pouring in VpCI® concentrate, 3) protect engine exterior by wrapping in VpCI® film and then sealing. The number of steps needed for protection has been cut by more than half and greatly simplified, significantly reducing the opportunity for application error. The Patented, Cortec® VpCI® Technology provides continuous protection to ferrous and non-ferrous metals. Its unique vapor action goes wherever corrosive agents can travel to form a micro-thin film that protects all metal surfaces including cavities, recesses, voids, and open head spaces. The liquid VpCI® concentrate works for the internal surfaces and the VpCI® film works for the external surfaces. When needed, additional VpCI® products are used to protect the electrical, fuel, and cooling system. Compared to older methods, putting an engine back in service takes fewer steps and moves very quickly. 1) The engine is unwrapped. 2) The engine is now ready to be placed back in service. No cleaning is required thus eliminating expensive degreasing operations and costs. Cortec® VpCI® Engine Treatment provides clean protection. It allows engines to virtually be put back into service immediately saving considerable time and money. Company Description: Cortec® Corporation, a pioneer in environmentally friendly packaging, metalworking, cleaning, water treatment and metal protection technologies, is located in White Bear Lake, Minnesota. ISO 9001 and 14001 Certified, they manufacture over 300 products in five plants located in Minnesota and Wisconsin. Cortec is a global supplier of innovative and environmentally friendly specialty chemicals, plastics and coated papers. Cortec Website:
www.CortecVCI.com
Phone: 1-800-426-7832 FAX: (651) 429-1122