Product News: Computer Hardware & Peripherals
Energy-Efficient, 4U Server supports up to 12 co-processors.
Press Release Summary: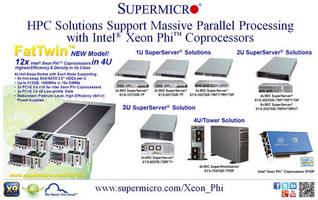 November 26, 2012 - FatTwin is 4U, hybrid SuperServer that supports up to 3 Intel Xeon Phi Coprocessor cards per U for total of 12 coprocessors in 4U configuration. Based on Intel® Many Integrated Core architecture, 4-node system features dual Intel® Xeon® processor E5-2600, and up to 512 GB of memory, per node. Product also has 8 cm heavy-duty cooling fans that optimize airflow and contribute to its 94% power efficiency.
Super Micro Computer, Inc. - San Jose, CA
Original Press Release
Supermicro® New 4U FatTwin(TM) Supports 12x Intel® Xeon Phi(TM) Coprocessors
Press release date: November 12, 2012
Company's Power Saving Platform Delivers 16% Higher Energy Efficiency than the Competition and Offers Highest Compute Density in its Class

SAN JOSE, Calif. - Super Micro Computer, Inc. (NASDAQ: SMCI), a global leader in high-performance, high-efficiency server technology and green computing, has readied a wide selection of server platforms for Intel® Xeon Phi™ coprocessors based on Intel® Many Integrated Core (MIC) architecture in form-factors ranging from 1U-3U rack mount systems to 4U Tower servers. Supermicro's 4-node FatTwin platform has a new model which supports up to 3 Intel Xeon Phi Coprocessor cards per U for a total of 12 coprocessors in 4U. With dual Intel® Xeon® processor E5-2600 and up to 512GB of memory support per node this hybrid SuperServer offers an amazing amount of parallel processing power to accelerate research while simplifying development of highly-parallel applications. A key advantage of the FatTwin platform is its shared resource, power saving architecture with high-efficiency 8cm heavy-duty cooling fans, optimized airflow and Platinum Level (94%+) power supplies, which combined provide up to 16% greater efficiency over similar server systems.

"Supermicro supports Intel's Xeon Phi coprocessors across our high-performance, high efficiency server and workstation product lines," said Wally Liaw, Vice President of Sales, International at Supermicro. "Our FatTwin computing platform features the highest density with support for 12x highly parallel processing accelerator cards in 4U while providing 16% higher energy efficiency than the competition through a combination of our innovative shared resource architecture, optimized cooling designs and Platinum Level high efficiency (94%+) power supplies. With Intel Xeon Phi coprocessors added to our product portfolio, Supermicro customers will have the widest range of form factors optimized for the most sophisticated HPC applications."

"Customers adopting HPC systems and Big Data analytics require the efficiency, expertise and nimble execution that Supermicro brings to the industry," said Raj Hazra, VP and general manager of Intel Technical Computing Group. "By uniting our most powerful processing technologies - Intel Xeon processors E5-2600 product family and Intel Xeon Phi coprocessors, companies like Supermicro are accelerating engineering and scientific discovery with double-precision performance in a hybrid environment and more importantly providing developers a new, more efficient path to application deployment with common instruction sets and multiple programming models."

Supermicro supports dual Intel® Xeon® processor E5-2600 product family across the platforms designed for Intel Xeon Phi coprocessor. 1U SuperServers (SYS-1017GR-TF, SYS-5017GR-TF, SYS-1027GR-TRFT/TRF/TSF,) support up to 3x Intel Xeon Phi coprocessor cards with 256GB in 8x DIMM slots for RAM, 4x hot-swap 2.5" HDD bays, 2x GbE or 10GbE network ports and dual 1800W redundant Platinum Level high efficiency (95%) power supplies, other 1U models (SYS-1027GR-TRFT+/TRF+) support up to 2x Intel Xeon Phi coprocessor cards with 512GB in 16x DIMM slots, 4x hot-swap 2.5" HDD bays, 2x GbE or 2x10GbE network ports and dual 1800W redundant Platinum Level high efficiency (95%) power supplies, making them ideal platforms for energy exploration, computational finance, 3D modeling and chemistry applications. 2U SuperServers (SYS-2027GR-TRF/TRFT/TSF, SYS-2027GR-TRFH/TRFHT) support up to 6x Intel Xeon Phi coprocessor cards and feature greater storage in 10x hot-swap 2.5" HDD bays and 2x GbE or 2x 10GbE network ports making these systems perfect for supercomputing cluster applications in scientific, research and engineering fields. The 3U SYS-6037R-72RFT+ supports 2x Intel Xeon Phi coprocessor cards and offers maximum memory/storage capacity with up to 768GB in 24x DIMMs and 8x hot-swap 3.5" HDD bays and an additional 2x 5.25" peripheral drive bays making it an ideal candidate for virtualization and HPC in the cloud. 4U Tower solution SYS-7047GR-TPRF supports up to 4x Intel Xeon Phi coprocessor cards with 512GB in 16x DIMM slots and 8x hot-swap 3.5" HDDs for mission critical enterprise server, large database and online transaction processing applications.

Visit Supermicro November 12-15 in booth #817 at Supercomputing 2012, Salt Lake City Utah to see the wide range of systems ready to support Intel Xeon Phi coprocessors. For full details on Supermicro's MIC ready platforms, visit www.supermicro.com/Xeon_Phi/ .

Follow Supermicro on Facebook and Twitter to receive their latest news and announcements.

About Super Micro Computer, Inc.
Supermicro® (NASDAQ: SMCI), the leading innovator in high-performance, high-efficiency server technology is a premier provider of advanced server Building Block Solutions® for Data Center, Cloud Computing, Enterprise IT, Hadoop/Big Data, HPC and Embedded Systems worldwide. Supermicro is committed to protecting the environment through its "We Keep IT Green®" initiative and provides customers with the most energy-efficient, environmentally-friendly solutions available on the market.                                                                                                                         

Supermicro, SuperServer and We Keep IT Green are trademarks and/or registered trademarks of Super Micro Computer, Inc.

Intel, the Intel logo, the Intel Inside logo, Xeon, and Xeon Phi are trademarks of Intel Corporation in the U.S. and other countries.

All other brands, names and trademarks are the property of their respective owners.

SMCI-F

SOURCE
Super Micro Computer, Inc.

CONTACT: David Okada, Super Micro Computer, Inc., davido@supermicro.com

Web Site: www.supermicro.com