Product News: Electrical Equipment & Systems
Emergency LED Light offers wireless charging.
Press Release Summary: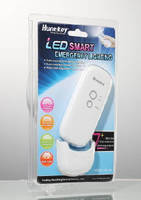 January 14, 2013 - Equipped with auto-sensing night light, 1 Watt Wireless Charging LED Light is designed to turn on immediately after blackout. Unit features 5 LEDs and 3 modes of illumination. High mode uses all 5 LEDs, while Middle mode uses 3 LEDs and Low mode uses only center LED. Powered by rechargeable lithium batteries, torch light is placed in charger which is plugged directly into socket. When fully charged, it will turn off automatically.
Original Press Release
Huntkey Announces Wireless Charging LED Light
Press release date: January 10, 2013
SHENZHEN, China, -- Huntkey Enterprise Group, a global professional power supply provider, announced Wireless Charging LED Light, a household LED smart emergency lighting solution for your daily life.

There are five high illumination LEDs at the front of the torch light. The five LEDs will turn on immediately after a blackout. There are three modes of illumination level for choice. High mode: five LEDs are lit. Middle mode: three LEDs are lit. Low mode: only the middle one is lit.

There are only two buttons on the torch light. One is on/off, and the other is mode control. Push the mode control button when the torch light is off, it will display remaining power intelligently. There is not any screw, depending entirely on internal locking to fix the product. The design is simple and elegant.

There is an orange part at the bottom of the charger. This is an auto-sensing night light. When in darkness, it will turn on immediately in case you can not find any torch at hand.

This is how the "wireless charging" works. Plug the charger into a socket and charge the charger. Then just put the torch light into the charger and the torch light can be charged to full. With no port or wire, there is no possibility of electric shock.

With high-quality rechargeable lithium batteries, the wireless charging LED light can save your energy to the maximum extent. When fully charged, it will turn off automatically.

Specification:
Input:  220V  50/60Hz
Power: 1W
Charging and discharging cycle: ≥ 500

The Huntkey wireless charging LED light is patented. The patent number is 201130208626. The bulletin number authorized is 302022626S.

Words from end-users:

"I always wanted light in my kitchen cupboard but didn't want to hire an electrician. With you lights, I didn't have to. Thanks!" - Kim N. from Cleveland

"It is so easy to put up and use. I now don't have to go around looking for matches for candles." - David M.

"I am 90 and my wife, Phyllis, is 88 and the 4 lights we purchased are still showing us the way during the night. Thanks again!" - Don M.

At the beginning of 2013, we are currently giving out New Year gifts in Kazakhstan and Uzbekistan. Any wholesaler who buys ten of this product will get an extra one for free. Please contact our local distributors for detailed information.

About Huntkey
Huntkey Enterprise Group, founded in 1992, is a professional provider that specializes in the development, design, manufacturing and marketing of power supplies. Huntkey's products include power supplies (1W~250KW), power systems, computer cases, universal notebook adapters, power banks, chargers, power supply converters, power strips, LED lights, and more. The industrial parks of Huntkey in Shenzhen, Heyuan and Hefei, which cover a total area of over 750,000 square meters, are now the largest IT manufacturing base in mainland China. Huntkey, with over 8,000 employees, has set up its branch companies in Hong Kong and Japan. Its clients are found all over the world in more than 50 countries and regions, including Lenovo, Dell, Best Buy, Exper, Vestel, Positivo, Durama, Unicoba, DSG, HCL, Carrefour, FPT, Siragon, Olidata, and others.

For more information about Huntkey, please visit http://www.huntkeydiy.com.

CONTACT: Megan, +86-755-8960-6580, weiwei2@huntkey.net of Huntkey Enterprise Group

Web Site: www.huntkeydiy.com/UserFiles/uploadfiles/images/20130110114625609.jpg