Product News: Electrical Equipment & Systems
Emergency Genset suits offshore applications.
Press Release Summary: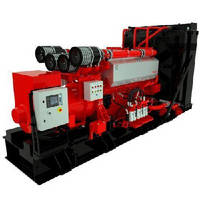 May 30, 2014 - Driven by QSK60 marine auxiliary engine with MCRS fuel system and 2 independent starting systems, 60 liter QSK60 C Power Genset comes in 2 power options of 1,440 kWe and 1,800 kWe at 1,800 rpm (60 Hz). System rated at 1,440 kWe features set-mounted radiator and STAMFORD PM743E alternator from Cummins, while 1,800 kWe package has remote-mounted radiator and WEG GPA560 alternator. Optional air shut-off valve helps meet emergency shutdown requirements of offshore applications.
Cummins Engine Co., Inc. - Columbus, IN
Original Press Release
Cummins Launches QSK60 C Power Emergency Genset for Offshore Applications
Press release date: May 20, 2014
CHARLESTON, S.C. -- Cummins Inc. (NYSE: CMI) a leading manufacturer of diesel engines for the commercial marine industry, is pleased to announce the latest addition to the C Power product line, the QSK60 C Power (CP) emergency generator set. Engineered by the Cummins Center of Excellence for the demands of offshore applications, the QSK60 C Power genset is driven by the QSK60 marine auxiliary engine with MCRS fuel system. This engine has been used in diesel electric propulsion and power generation since 2008.

"With an expected growth of 17-20% over the next five years, the offshore market is one of the fastest growing and technically advanced segments in the commercial marine industry. In 2013, Cummins embarked on a number of initiatives to strengthen our commitment to the offshore market, including the development of standard power packages designed with the needs of the offshore market in mind," according to Waldemar Marchetti Sobrinho, Global Offshore Business Development Director. "The launch of the QSK60 C Power genset confirms our commitment to the offshore market and serves as an important step in establishing Cummins as a first-choice supplier among owners and operators."

Cummins emergency generator sets feature a Cummins marine auxiliary engine fit with radiator cooling and two independent starting systems to assure the generator is capable of operating independently of all other ship's systems. Plus, the QSK60 C Power genset features an optional air shut-off valve (ASOV) to meet the emergency shutdown requirements of offshore applications including drill ships. The 60-liter genset is available with certificates from all the major marine classification societies and is compliant with the latest EPA and IMO emissions regulations.

Cummins will offer two power options on QSK60 C Power to meet the regional requirements of offshore operators: 1,440 kWe and 1,800 kWe at 1,800 RPM (60 Hz). Assembled at the Cummins Center of Excellence in Singapore, the 1,440 kWe package features a set-mounted radiator and a STAMFORD PM743E alternator from Cummins Generator Technologies, making it an ideal choice for deep-sea containers, bulkers and tank ships. To meet Brazil's local content requirements, the 1,800 kWe package is assembled at the Cummins facility in Rio de Janeiro and features a remote-mounted radiator and WEG GPA560 alternator. Cummins will provide 1,800 kWe emergency gensets for 14 drill ships being built at Brazil's Estaleiro Atlântico Sul (EAS) and Jurong Shipyard for Brazilian state oil company Petrobras; building began in late 2013 and will conclude in 2019. The drill ships will be used to support oil exploration and extraction.

C Power generator sets are backed by a comprehensive factory warranty that is valid and consistent worldwide, everywhere Cummins-authorized service is available. Plus, they are fully supported by the Cummins distribution network, featuring over 1,200 service outlets.

In addition to standard C Power genset packages, Cummins offers a wide range of customized power packages through our distribution channel and Center of Excellence. All custom gensets feature a Cummins marine auxiliary engine from six and to 60 liters matched to the customer's choice of alternator including components from Cummins own STAMFORD and AvK product lines, to meet power, application and local requirements. All systems are tested to Cummins and Marine Classification Society standards, resulting in a quality product that meets customers' exacting specifications.

About Cummins
Cummins Inc., a global power leader, is a corporation of complementary business units that design, manufacture, distribute and service diesel and natural gas engines and related technologies, including fuel systems, controls, air handling, filtration, emission solutions and electrical power generation systems. Headquartered in Columbus, Indiana, (USA) Cummins currently employs approximately 48,000 people worldwide and serves customers in approximately 190 countries and territories through a network of approximately 600 company-owned and independent distributor locations and approximately 6,500 dealer locations. Cummins earned $1.48 billion on sales of $17.3 billion in 2013.

Contact:
Elizabeth Zaitz
Marine Communications Manager
843.308.6698