Embedded Box PC supports industrial automation applications.
Press Release Summary: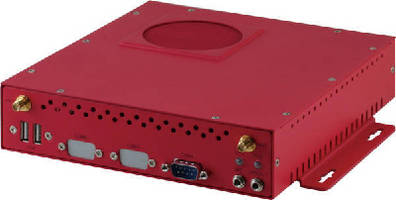 January 16, 2013 - Powered by quad core Intel Core i7-3610QE processor and Mobile Intel® QM77 chipset, TKS-G50-QM77 features up to 8 GB DDR3 1,333/1,600 SODIMM memory. Unit offers optimized graphic performance via Intel® InTru™ 3D Technology and Intel® Clear Video HD Technology. In addition to 2 GbE ports, 1 CRT, 2-channel HD Audio, and 2 SATA 6.0 Gbps ports, PC includes 1 CFast™, 2 USB 3.0, 2 USB 2.0, 4 COM, programmable 8-bit Digital I/O, and 1 Mini Card expansion slot for wireless networking options.
Original Press Release
AAEON Announces High Performance Graphic-Rich TKS-G50-QM77 Embedded Box PC for Demanding Industrial Automation Applications
Press release date: January 14, 2013
(Taipei, Taiwan) – AAEON, a leading industrial computing manufacturer, released today the TKS-G50-QM77, a new high performance Embedded Box PC, based on the 3rd Generation Intel® Core™ processor, which can greatly enhance features and improve performance for Industrial Automation applications, by increasing productivity and enhancing workflow while running sophisticated programs.  Designed for flexible customization, the TKS-G50-QM77 can easily be adopted for other applications that require high performance computing in a small form factor enclosure such as Gaming, Advanced Digital Signage, Transportation and Hi-end Kiosks.
Designed with the latest quad core 3rd Generation Intel® Core™ processors and complimented by the Mobile Intel® QM77, the TKS-G50-QM77 offers superb graphic performances via Intel® InTru™ 3D Technology and Intel® Clear Video HD Technology, rich connectivity, remote management through Intel® Active Management Technology (Intel® AMT) and Intel® Rapid Storage Technology. The 3rd Generation Intel® Core™  processors offer an overall 38% improvement over the previous generation and with a lower thermal envelop, it is a designer's choice when designing high performance, small embedded devices.
The TKS-G50-QM77 includes the quad core Intel Core i7-3610QE processor with DDR3 1333/1600 SODIMM memory, and the system has a maximum of 8GB memory.  TKS-G50-QM77 features two Gigabit Ethernet ports, one CRT (or DVI-I optional), 2-channel High Definition Audio, two SATA 6.0Gb/s (supports RAID 0,1 option), one CFast™, two USB3.0, two USB2.0, four COM, a programmable 8-bit Digital I/O and one Mini Card expansion slot for wireless networking options.  DirectX 11, OpenGL 3.1, OpenCL 1.1 and stereoscopic 3D are supported enhancing up to 50% 3D graphics performance and up to 1.8X real time HD-HD transcode improvements. 
"The TKS-G50-QM77 offers excellent streaming and 3D solution for advanced graphic-oriented applications," says Ben Hsu, Product Manager of AAEON's Embedded Computer Division.  "Scalable from Intel® Core™ i3, i5 to i7 processors, it is well suited to power even the most demanding software applications," he adds.
The TKS-G50-QM77 is Windows® 8 ready and supports most legacy embedded Operating Systems.
Intelligent Remote Device Management and Device Monitoring
For effective remote device management, the free AAEON Hi-Manager program can be installed on each deployed TKS-G50-QM77, allowing BIOS-level remote management from a remote console.  Hi-Manager can also be installed on a TKS-G50-QM77 to monitor other AAEON devices.  For individual device monitoring, the free Hi-Safe program with its user-friendly monitoring interface can be installed.
Group Management using Hi-Manager
The AAEON Hi-Manager is a powerful tool based on the Intel® AMT A and has backward compatibility with earlier versions of Intel AMT.  This allows users to locate all Intel AMT devices in the intranet, power, set and manage On/Off target devices remotely, recover systems, remote KVM management and access to target device hardware information for asset management.  Hi-Manager can be installed on all AAEON platforms and can remotely manage AAEON client devices that use Mobile Intel® QM77, QM67 and QM57 Express chipsets and run Microsoft® Windows® XP, Window® 7/8 Operating Systems.
Status Monitoring using Hi-Safe
AAEON Hi-Safe is a free and powerful hardware-based program geared toward SDKs for UIs running Microsoft® Windows® Operating systems.  It provides an easy way to develop the end user's own UI software to monitor vital system information such as those for the processor, RAM and VGA.  It monitors received data from the Super I/O, fan, temperature and voltage, offers configuration options for Digital I/O pin direction and data, provides watchdog timer and fan speed settings, SMBus base address detection and device ID settings, optional monitoring of UPS data information and offers two modes for backlight display control if one uses the LVDS interface.  Based on the user interface SDK, no coding is needed and customers can create their own customized user interface by downloading the function codes provided by AAEON.
For more product information, please contact AAEON's regional sales representatives or visit
www.aaeon.com
for detailed information.
About AAEON
AAEON Technology, Inc is a leading manufacturer of advanced industrial and embedded computing platforms. Committed to innovative engineering, AAEON provides integrated solutions, hardware and services for premier OEM/ODMs and system integrators worldwide. Reliable and high quality computing platforms include industrial motherboards and systems, industrial displays, rugged tablets, PC/104, PICMG and COM modules, embedded SBCs, embedded controllers and related accessories. AAEON also offers customized end-to-end services from initial product conceptualization and product development on through to volume manufacturing and after-sales service programs. AAEON is an Associate member of the Intel® Intelligent Systems Alliance.
Intel and Intel Core are registered trademarks of Intel Corporation in the United States and other countries.
Press Contact
AAEON Technology Inc.
Ashley Liu
TEL: +886-2-8919-1234 # 1110
Email: ashley1liu@aaeon.com.tw
www.aaeon.com