Product News: Controls & Controllers
Electronic Stability Control enhances vehicle performance.
Press Release Summary: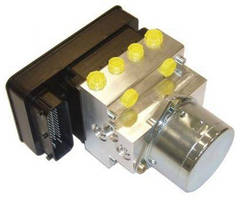 May 30, 2012 - Compatible with range of powertrain configurations, EBC 460 includes standard, high, and premium systems that can offer anti-lock brake, traction control, and Electronic Stability Control (ESC) functionality; variants support hybrid electric through to full electric vehicles. System utilizes long-life motor pump with optional half-sleeve design, pressure sensors to build and maintain brake pressure, noise vibration and harshness reduction, and high frequency motor speed control.
Original Press Release
Latest Generation TRW Electronic Stability Control Launching Around the Globe
Press release date: May 30, 2012
LIVONIA, Mich. -- TRW Automotive Holdings Corp. (NYSE: TRW) is launching its latest EBC 460 product family of Electronic Stability Control (ESC) systems across the four major global automotive regions. EBC 460 offers enhanced value, performance, and compatibility across a wide range of powertrain configurations. TRW's EBC 460 family features a standardized product design coupled with advanced manufacturing capability in Europe, North America, South America and Asia, where significant investments have been made in equipment and engineering support. The global product family encompasses standard, high and premium systems - all of which can offer anti-lock brake, traction control and ESC functionality with variants that support hybrid electric through to full electric vehicles. "ESC technology is an excellent example of an intelligent safety system. Since TRW launched its first ESC a decade ago, the Company has continually added more features and functions while making the system smaller, lighter and less expensive," said Peter Lake, executive vice president, sales and business development. "The EBC 460 family embodies the three themes of Cognitive Safety - advanced thinking for its ability to correct skids and slides, smart thinking for the many ways the product has been cost-optimized and green thinking for its compatibility with hybrids and other alternative powertrains." The EBC 460 includes numerous upgrades to enhance value and performance, compared to previous generation systems. It utilizes a long-life motor pump with an optional half-sleeve design, two additional integrated pressure sensors for increased capacity to build and maintain brake pressure; noise vibration and harshness reduction and increased motor lifetime through high frequency motor speed control. The EBC 460 platform also features integration of yaw and acceleration sensors within its EHCU control unit (EHCU). The EHCU is also capable of acting as the controller for TRW's electric park brake system - an integrated system known as EPBi. "ESC is a key technology that has been mandated across the major US and European markets and provides a building block on which a variety of integrated safety systems are based," said Josef Pickenhahn, vice president of engineering for braking systems. "The EBC 460 is the most advanced ESC we have ever produced and it will deliver all of the benefits of previous generations while including features such as active rollover management to help prevent the likelihood of rollover and trailer stability control that assists in maintaining vehicle stability of both the vehicle and the trailer. Further functions are possible that support adaptive cruise control through to highly sophisticated automatic emergency braking and crash mitigation systems to create exciting opportunities for the safety of future vehicles." About TRW With 2011 sales of $16.2 billion, TRW Automotive ranks among the world's leading automotive suppliers. Headquartered in Livonia, Michigan, USA, the Company, through its subsidiaries, operates in 26 countries and employs over 60,000 people worldwide. TRW Automotive products include integrated vehicle control and driver assist systems, braking systems, steering systems, suspension systems, occupant safety systems (seat belts and airbags), electronics, engine components, fastening systems and aftermarket replacement parts and services. All references to "TRW Automotive", "TRW" or the "Company" in this press release refer to TRW Automotive Holdings Corp. and its subsidiaries, unless otherwise indicated. TRW Automotive news is available on the internet at
www.trw.com
. CONTACT: Lynette Jackson, TRW Automotive, +0121-506-5315 / lynette.jackson@trw.com, or John Wilkerson / TRW Automotive, +1-734-855-3864, john.wilkerson@trw.com