Product News: Machinery & Machining Tools
EDM Machine drills film cooling holes and diffuser shapes.
Press Release Summary: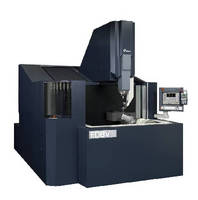 March 27, 2014 - Equipped with 2-axis rotary table that can accommodate workpieces up to 19.7 in. dia x 24.96 in. long, Model EDBV8 is designed for production of film cooling holes and shaped diffuser holes in blade and vane segments. Machine offers X-, Y-, Z-, and W-axis travels of 31.5, 23.6, 29.5, and 19.7 in., respectively. Rotating C-axis head features EROWA compact chuck that enable automatic changing of electrode diameters from 0.008–0.236 in. with rotation speeds up to 1,000 rpm.
Original Press Release
Makino Releases EDBV8 for Fast Hole EDM Drilling of Film Cooling Holes and Diffuser Shapes
Press release date: March 19, 2014
Auburn Hills, Mich. -- Makino announces the release of the EDBV8 fast hole EDM drilling machine for the production of film cooling holes and shaped diffuser holes in blade and vane segments. The EDBV8 is ideally suited for large turbine engine component machining for the aerospace and power-generation markets, and it is equipped with a 2-axis rotary table for enhanced workpiece positioning. The development of this machine marks the first expansion of the EDBV-Series (electrical discharge blade and vane) product line, and it provides blade and vane manufacturers with the flexibility to accommodate a wider range of part sizes for any high-volume fast hole EDM drilling application.
"The EDBV8 machine provides manufacturers with the speed, flexibility and reliability to effectively produce a wide range of hole shapes and sizes with a single electrode process," said Brian Pfluger, Makino's EDM product line manager. "This approach significantly reduces tooling costs while improving cycle time, part quality and production efficiency. Its uniquely designed tooling system integrates the electrode and die guide into a common assembly for quick and reliable automated exchanges, and provides programmable control over electrodes and electrode diameter size changes."
The EDBV8 offers X-, Y-, Z- and W-axis travels of 800 mm, 600 mm, 750mm and 500 mm (31.5 inches, 23.6 inches, 29.5 inches and 19.7 inches), respectively. The machine is also equipped with a 2-axis rotary table that can accommodate a maximum workpiece size of 500 mm (19.7 inches) diameter by 635 mm (24.96 inches) long, and a maximum payload of 150 kg (330 lbs.). Its rotating C-axis head features an EROWA compact chuck that enables automatic changing of electrode diameters from 0.2 mm (0.008 inches) up to 6.0 mm (0.236 inches) with rotation speeds up to 1,000 rpm.
The EDBV8 uses a rigid guide-arm assembly to hold, locate and support the die guide, which can be alternately used as a programmable axis (W-axis) that runs parallel to the Z-axis. An integrated "middle guide" system is also contained within the W-axis and is used with long small-diameter electrodes to prevent whipping, bending and vibration of the electrode. Additionally, the middle-guide "fingers" automatically retract as the electrode tube reduces in length, maximizing the productive useful length of the consumed electrode.
Unique Requirements for a Growing Industry
"The need for EDM drilling with advanced capabilities in blade and vane components has grown substantially due to new production requirements, as turbine engine manufacturers strive to improve engine performance and reduce fuel consumption," explained Pfluger. "The EDBV8 fulfills these needs by building on Makino's proven EDM technologies to provide solutions to larger, heavier workpieces while improving productivity and part quality."
The EDBV8 features improved flushing through fully submerged machining, greater machining stability and part accuracy, and faster cycle times with the equipped 10 MPa (1,450psi) flushing capability for higher productivity of deep-hole features. The machine also contains a fast response break-through detection circuit to prevent back-striking or back-wall impingement (damage to the inner cavity) during blade and vane cavity wall penetration. This highly sensitive breakthrough detection circuit, which uses a combination of different adaptive process-monitoring techniques, is accomplished while delivering maximum speeds.
An advanced EDM generator technology produces excellent metallurgical quality and integrity on high-nickel alloys such as Inconel®. Reliable and repeatable machining results are maintained using the machine's on-board water quality control system that consists of a filtration system to clean the water, a deionization system to control water conductivity, and a chiller unit to maintain the water temperature at the same level as the machine casting.
For unattended burning of varying film cooling hole diameters, the EDBV8 features automatic tool change (ATC) and automatic guide change (AGC) systems. The patented tooling system combines the electrode holder and die guide together into a common assembly, providing enhanced reliability with simple and precise automated exchanges. Together, these features enable ATC and AGC exchanges in less than 1 minute, and they offer a unique combination of process flexibility while minimizing non-value added machine motions.
The EDBV8 employs several proven software technologies used in Makino's fine-hole sinker EDM machines. Makino's Model Plan system is integrated into the controller, providing user-friendly input screens with direct G- and M-code programming formats. An electrode length management system provides electrode wear tracking and automatically exchanges electrodes when lengths become too short. The controller contains several canned cycles for hole drilling and simple diffuser shape machining, and custom G-Code profiles can also be imported and easily used in the machine.
The EDBV8 has been designed for easy operation, and it offers the operator unparalleled access to the work tank with its three-sided rise-and-fall work tank. The EDBV8 is also capable of on-machine probing to determine workpiece locations and offsets. Electrical touch-sensing probing or a conventional mechanical touch probe can be used to capture location data points. The standard configuration of the EDBV8 includes a 24-station tool carousel and 24 tool assemblies to fully stock the machine for maximum productivity.
About Makino
A world leader in advanced CNC machining centers, Makino is committed to providing high-performance, leading-edge machining technologies and innovative engineered process solutions that enable manufacturers to focus on making what matters. Makino offers a wide range of high-precision metal-cutting and EDM machinery, including horizontal machining centers, vertical machining centers, 5-axis machining centers, graphite machining centers, and wire and Ram EDMs. Makino's flexible automation solutions provide reduced labor costs and increased throughput in a variety of production volumes and designs. Makino's engineering services offers industry-leading expertise for even the most challenging applications across all industries. For more information, call 1-800-552-3288 or visit makino.com.
For more information, additional images and releases, visit
www.makino.com/media
. Connect with Makino on Facebook at
www.facebook.com/makinomachine
.  Follow Makino on Twitter at
www.twitter.com/makinomachine
.