Product News: Construction Equipment and Supplies
DX380LL-5 Log Loader features 360-degree rotating log grapples.
Press Release Summary: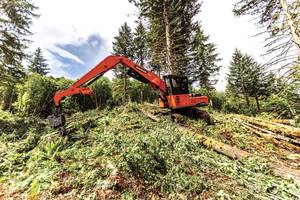 December 1, 2016 -
Featuring centralized grease points, wide side-access doors, DX380LL-5 Log Loader provides easy access to routine maintenance areas. Delivering 0 to 7.7 rpm swing speed and 129,876 lbf-ft swing torque, loader provides 18 ft. undercarriage track length. Having 113,538 lb operating weight and 313 horsepower, unit is equipped with 7-inch LCD screen for providing information about engine rpm, battery voltage, front and rear hydraulic pump pressure.
Original Press Release
Newest, Biggest Doosan DX380LL-5 Log Loader Supplies High Swing Torque and a Long Reach
Press release date: November 29, 2016
Forestry and logging professionals who desire a larger larger Doosan® log loader to assist with shovel-logging, sorting and log-loading tasks will be impressed with the new DX380LL-5 log loader.
Similar to other Doosan models, such as the DX225LL-5 and DX300LL-5 , that have proven themselves as productive, fuel-efficient machines, the DX380LL-5 log loader is designed for demanding logging applications. Weighing approximately 113,500 pounds, and powered by a Tier 4-compliant, 318-horsepower diesel engine, it is the first Doosan log loader in this size class.
Performance driven
Production is critical to logging operations, and the DX380LL-5 log loader is up to the challenge. Featuring high swing torque, approximately 44 feet of reach at ground level and powerful hydraulics, the DX380LL-5 is primed for peak performance when working on forestry tracts.
Doosan DX380LL-5 log loaders are designed with a log loader workgroup with a live heel. Doosan 360-degree rotating log grapples are commonly paired with the log loader's live heel to efficiently lift, rotate, move and place logs.
Uptime protection
To help keep Doosan log loaders running strong and to minimize downtime, the DX380LL-5 is manufactured with heavy-duty components and application-specific guarding. Durable boom, arm and heel cylinder guards, and machine guarding help minimize damage and machine downtime. Doosan log loader tracks are built with heavy-duty links with double grouser shoes and full-length guiding guards. Top rollers are equipped with special clean-out brackets to make routine maintenance simpler.
The DX380LL-5 is built with a high and wide undercarriage for excellent ground clearance. It comes standard with a 4-foot forestry cab riser with exceptional all-around visibility, including a standard rearview camera that is viewable from an easy-to-read, 7-inch LCD screen. The LCD screen provides information about the log loader's engine rpm, battery voltage, front and rear hydraulic pump pressure, and many other critical machine data. For optimal comfort, operators can adjust the suspension seat, headrest and armrest, as well as joystick controls to best accommodate operator preferences.
Operators have easy access to routine maintenance areas to increase machine uptime and productivity. DX380LL-5 log loader maintenance features include: centralized grease points, wide side-access doors for cleaning the machine's cooling system, boom pivot bushings with greasing intervals of 250 hours and a large-capacity engine air precleaner that removes more than 99 percent of airborne particles and extends filter cartridge service life.
Doosan log loader operators can utilize a standard auto-shutdown system during nonworking conditions to help save diesel fuel and reduce operating costs. When enabled, the feature will shut down the log loader's engine when the preset idle time is met.
Optional equipment
Options for the new DX380LL-5 log loader include the following: LED lights for enhanced visibility when working early in the morning or at night; auto-greasing to reduce maintenance time while still protecting the machine; straight travel pedal, allowing the operator to travel in a straight line more easily; block heater or diesel-powered coolant heater for cold-weather starts; and sideview camera available for viewing on the LCD screen.
New rear-entry forestry cab available
Available as an option for Doosan log loaders, a new rear-entry forestry cab provides easier entry and exit to the operating area, improved operator comfort and better visibility to the tracks and work area. Operators can look through windows in the floor foot pedal area for enhanced visibility on logging sites. The new rear-entry forestry cab will be available for Doosan DX225LL-5, DX300LL-5 and DX380LL-5 log loaders.
Additional features include a hydraulic tilt riser for easier transportation on a truck when traveling to and from logging sites. For improved operator comfort, a heated air-ride seat and joystick controls are standard equipment in the updated forestry cab.
ABOUT DOOSAN CONSTRUCTION EQUIPMENT
Doosan Construction Equipment, headquartered in DOOSAN, markets the Doosan brand of products that includes crawler excavators, wheel excavators, wheel loaders, articulated dump trucks, material handlers, log loaders and attachments. With more than 160 heavy equipment dealer locations in North America, Doosan is known for an unmatched dedication to service and customer uptime, and durable, reliable products. Doosan is fast becoming a global force in heavy construction equipment. Doosan Construction Equipment is a business of Doosan Bobcat North America.
For more information on Doosan® products, visit DoosanEquipment.com.
Quick Look: DX380LL-5 log loader
Horsepower (net): 313 hp
Operating weight: 113,538 lb.
Undercarriage track length: 18 ft.
Maximum working height: 49 ft. 1 in.
Maximum working reach: 44 ft. 2 in.
Swing speed: 0-7.7 rpm
Traction force, max (Drawbar pull): 333,564 lbf-ft.
Swing torque: 129,876 lbf-ft.