Product News: Test & Measuring Instruments
Dual-Channel Logger records DC voltage and current.
Press Release Summary: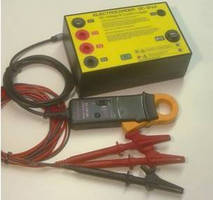 December 17, 2012 - Provided in kit with DC current probe, 3 fused voltage leads, USB lead, 12 Vdc PSU, and software, Two Channel DC Voltage and Current Data Logger monitors 1 or 2 DC voltage channels from 1–300 V and one DC current channel (±10 or ±100 A). IP65-rated unit records avg, max, and min values, and accommodates diverse battery testing applications. User-selectable averaging period from 1 sec to 60 min is accurate to less than 1% of range, and memory capacity is 32,000 true RMS values per channel.
Original Press Release
Low-Cost Battery Testing Solution from CAS DataLoggers; Two Channel DC Voltage and Current Logger
Press release date: November 26, 2012
CHESTERLAND OH–As winter approaches, companies are performing critical machine maintenance including battery testing for their electrical equipment. Heavy machinery, electric forklifts and other systems often experience battery drains during startup, when much of the current is devoted to running large engines, leaving this equipment starved for power. Now CAS DataLoggers supplies the low-cost solution with the new Two Channel DC Voltage and Current Data Logger, recording DC voltage and DC current (avg, max and min) at high accuracy. The voltage and current logger is provided in a comprehensive kit which includes the data logger, a DC current probe, three fused voltage leads, a USB lead, a 12Vdc PSU and FREE software—all for one low price.

This model is specifically designed to accurately monitor one or two DC voltage channels from 1V to 300Vdc, and one DC current channel (+/-10A or +/-100A). This enables many battery testing applications including monitoring PV (photovoltaic) cell output, DC charger performance, and other uses including equipment monitoring of DC motors. For reliable protection from dust and damage, the data logger is rated IP65, with NEMA 12/4 rated versions also available.

Users can select an averaging period to suit each situation, accurate to <1% of range. When recording, the DC logger will store the average DC voltage and DC current over the period chosen (user-settable from 1 sec to 60 min), and will also record the highest and lowest values during that period. Memory capacity is 32,000 true RMS values per channel (10 bit), providing up to 300 days of continuous recording. All the stored data is uploaded to a PC via the supplied USB cable, and for simple storage, the data logger fits easily into the included carrying case.

Additionally, FREE software loaded with features is provided to upload the USB logger's recorded data to a PC. This setup software allows users to export data files as well as plot graphs showing energy/power costs and find savings using voltage optimization techniques. The software also features a database which can be used across a network to track the logger's location and enables alarms for late returns, emails data files, and prints report-quality graphs. Users can draw electrical line diagrams, view print previews and output to PDF, RTF, XLS, HTML, etc.

CAS DataLoggers has a full range of voltage and current data loggers fully equipped to handle a large variety of recording applications. Our products include loggers with one to three channels for current and/or voltage in single phase and three phase AC models and DC input versions, all in a variety of recording ranges. These low-cost systems are supplied with all necessary connection leads, software and communications cables.

For more information on the new Two Channel DC Voltage and Current Logger, other current and voltage data loggers, or to find the ideal solution for your application-specific needs, contact a CAS Data Logger Applications Specialist at (800) 956-4437 or visit the website at www.DataLoggerInc.com. Contact Information: CAS DataLoggers, Inc. 12628 Chillicothe Road Chesterland, Ohio 44026 (440) 729-2570 (800) 956-4437 sales@dataloggerinc.com www.dataloggerinc.com