Dual-Band/WAN VoIP Router features fiber-ready design.
Press Release Summary: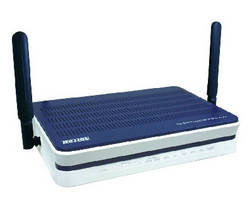 November 28, 2012 - In addition to being IPv6-capable, BiPAC 7800VDPX ADSL2+ Router supports VoIP and automatic fail-over, as well as dual-WAN connectivity through Gigabit Ethernet WAN port. Unit also supports concurrent dual-band Wireless-N 300 Mbps (2.4 GHz/5 GHz), and includes 4 Gigabit Ethernet ports on back. Embedded with USB port, router acts as print server as well as NAS device with DLNA and FTP access. BiPAC 7800VDPX delivers future-proof solution for FTTH network deployment and services.
Original Press Release
Billion Globally Launches New Fiber-Ready Dual-Band/WAN VoIP Router - BiPAC 7800VDPX
Press release date: November 22, 2012
Taipei, Taiwan – Billion Electric Co., Ltd. (Taiex: 3027, trading as Billion), a leading Asia Pacific-based provider in communications, smart grid, smart lighting, and smart energy management solutions, today announces to globally launch a new Fiber-ready dual-band router, BiPAC 7800VDPX, featuring as all-in-one advanced router including concurrent dual-band Wireless-N 300 Mbps (2.4GHz/5GHz), Voice over IP, Gigabit Ethernet, and NAS in one unit; ecstatically, lately just granted the honors from Australian APC magazine and PC & Tech Authority with affirmations of "APC Highly Recommended" and "Five Stars Appraisal", respectively.
"This comprehensive VoIP ADSL router has received a number of favorable reviews from professional magazines and has granted high recommendation in Australia where we firstly launched as a good start. The feedback from the market once again affirms Billion's leadership in the broadband networking technologies," said Tim Chen, CEO of Billion Electric.
"Inheriting Billion's best selling VoIP models, our R&D team continuously puts in efforts developing killer product and finally comes with the BiPAC 7800VDPX. After times of field trials from professionals and broadband enthusiasts, the device outweighs other brands' routers no matter in WiFi speed and flexibility, putting our product way ahead of others. So far in Australia, it already triggers huge reverberation around households and power users who already are addicted with our value-added products. Now, we officially roll out this product worldwide in response to what customers deserve for their VoIP communication experiences."
As well as being IPv6-capable, the Billion BiPAC 7800VDPX ADSL2+ router exerts its potency by realizing Fiber connection with supporting dual-WAN connectivity through a Gigabit Ethernet WAN port. Also, embedded in the telephony functions are VoIP, automatic fail-over and least cost routing capabilities. Along with concurrent dual-band Wireless-N 300 Mbps (2.4GHz/5GHz), there are four Gigabit Ethernet ports on the back for running cables to devices around your home. The fourth port doubles as an EWAN (Ethernet Wide Area Network) port designed to connect with ADSL/cable/Fiber modem for dual-WAN broadband connection. It's also embedded with a USB port, letting the device act as a print server as well as a NAS (Network Attached Storage) device with DLNA (Digital Living Network Alliance) and FTP (File Transfer Protocol) access. With the plenty of features, the Billion BiPAC 7800VDPX delivers future-proof solution for ultra-speed FTTH (Fiber-To-The-Home) network deployment and services.
About BILLION
Billion Electric Co., Ltd. (Taiex: 3027, trading as Billion), was established in Taiwan in 1973. One of Asia Pacific area's leading providers of power supplies, communication equipments and Smart Grid and Smart Energy Solution Provider. Billion has in-house R&D laboratories with over 185 engineers specializing in the fields of communications, networking, power, and energy management. The R&D teams are located at Taipei and Hsin-chu in Taiwan, Nanjing and Dong-Guang in China. They work together to meet the needs of Billion's OEM/ODM/OBM partners from across the globe. Billion now employs more than 1,000 people and has manufacturing locations in Taiwan, Malaysia, and China. All the factories are ISO9002 certified and every product is 100% tested twice to ensure the best quality and zero defects. For more information, please visit our websites at
www.billion.com
and
www.smartgrid.com.tw
.
For additional information, please contact:
Media contact: press@billion.com / Sales contact:
sales@billion.com