Product News: Test & Measuring Instruments
Dual Arm Protractors offer 18 and 36 in. swing arms.
Press Release Summary: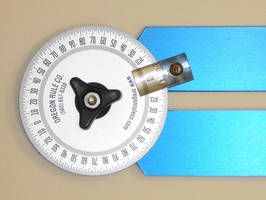 April 2, 2009 - Suited for industrial, commercial, and engineering applications, Dual Arm Protractors feature anodized aluminum arms weighing 1 and 1.75 lb, respectively. Dial is precision anodized with ½ degree grads, while pointer has overlapping red line located under 2:1 magnifier, and 3-prong locking hand knob provides sure grip.
Original Press Release
Large Dual Arm Protractors with 18 and 36" Swing Arms
Press release date: March 27, 2009
Oregon Rule Company of Oregon U.S.A. has recently redesigned its protractors to include many requests and suggestions by their customers. Different material selections and improved manufacturing processes combine to make them more functional, easier to use, and more accurate.

The key features of these improvements include:

1. Weight reduction. Previous arms were made of plated steel that weighed 3 LB and 5.25LB, respectively. Now they are anodized aluminum which only weigh 1LB and 1.75LB, respectively.

2. Improved Dial. The previous dial had dual directional numbers with one degree grads. The new dial is precision anodized with simplified numbers and has 1/2 degree grads.

3. Improve Pointer. Former pointer was a "point" that was radially aligned on the radius of the dial to read. The new pointer is an overlapping red line located under a 2:1 magnifier.

4. Better locking hand knob. Previous knob was smooth and round. New knob is a 3-prong,sure grip style.

In all, these improvements help to make these measuring tools practical for more industrial, commercial and engineering applications.