Product News: Chemicals & Chemical Processing
Dry Ice Maker can operate 24/7 to fulfill demand.
Press Release Summary: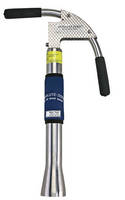 February 11, 2013 - Ergonomically engineered and constructed, ABSOLUTE ZERO® is constructed of stainless steel for durability and capable of producing 17 lb of product within 2 min. Ability to produce dry ice according to demand on up to 24/7 basis accommodates needs of packaging, bio-tech, pharma, life science, and perishable food applications. Other areas of use include sanitizing/degreasing, laboratories, maintenance departments, and instances involving power outages where perishables must be saved.
Polar Tech Industries, Inc. - Genoa, IL
Original Press Release
Make Your Own Dry Ice
Press release date: January 19, 2013
Low Cost • High Yield • Durable • Easy

Ergonomically Engineered and Constructed

Safe • Light Weight • Durable Stainless Steel

ABSOLUTE ZERO® High yield dry ice maker produces 17 lbs. per 2 minutes – a 47% yield.
Ideal for:
• PACKAGING/Bio-Tech, Pharma, Life Science, Food Perishables — Refrigerated and frozen
• SANITIZING/DEGREASING — Slaughtering and food manufacturing facilities
• LABORATORY/ORGAN — Specimens, cultures, tissues
• POWER OUTAGE — Save perishables warehouses, retail, home
• MAINTENANCE DEPARTMENT — Emergency pipe repair, dry ice surface blasting, pest control

Eliminate waiting for dry ice deliveries and calculating quantity and sublimation loss.

PRODUCE YOUR REQUIREMENTS ON DEMAND 24/7.

SAVE TIME AND MONEY, take control of your dry ice requirements TODAY.

Call our ABSOLUTE ZERO® specialist at POLAR TECH INDUSTRIES, 800-423-2749