Product News: Machinery & Machining Tools
Drill Heads eliminate spiral marks and grooves.
Press Release Summary: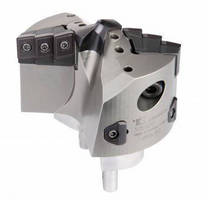 October 24, 2012 - Available in standards sizes from 28–70 mm and customized solutions from 28–127 mm, KSEM PLUS B1 Heads with DFC guiding pads can handle drilling through stacked materials, inclined exits, and cross holes as well as interrupted cut conditions. Two effective cutting edges work well at high feed rates to minimize load per edge, compensate for radial forces, and prevent disk build up with only 2 chips per edge.
Original Press Release
New KSEM PLUS B1 Heads Extend Kennametal's KSEM PLUS Product Range
Press release date: October 18, 2012
The simple but effective KSEM PLUS™ modular system that combines the benefits of the KSEM™ modular drill (high feeds and length-to-diameter [L/D] ratios) with the benefits of an indexable drill (high speeds and low consumable costs) is the current industry benchmark when it comes to drilling large diameter applications. Kennametal is now extending its KSEM PLUS range by introducing new KSEM PLUS B1 Heads with DFC guiding pads to deliver reduced cost per hole in difficult drilling conditions.

The enhanced capabilities of the B1 Heads can handle drilling through stacked materials, inclined exits, drilling through cross holes, and interrupted cut conditions. With these new pads, KSEM PLUS B1 Heads benefit from accurate guidance of the head when drilling through cross holes with widths up to 50% of the drill's diameter. They also eliminate spiral marks and grooves and enable high-quality hole exits for reliable drilling from two sides when indexing drilling directions.

KSEM PLUS B1 Heads offer two effective cutting edges that work well at high feed rates to reduce the load per edge, compensate for radial forces, and prevent disk build up with only two chips per edge. They are available in standard sized from 28–70mm and customized solutions from 28–127mm.

Kennametal Inc. (NYSE: KMT) delivers productivity to customers seeking peak performance in demanding environments by providing innovative custom and standard wear-resistant solutions. This proven productivity is enabled through our advanced materials sciences and application knowledge. Our commitment to a sustainable environment provides additional value to our customers. Companies operating in everything from airframes to coal mining, from engines to oil wells and from turbochargers to construction recognize Kennametal for extraordinary contributions to their value chains. In fiscal year 2012, customers bought approximately $3 billion of Kennametal products and services – delivered by our approximately 13,000 talented employees doing business in more than 60 countries – with more than 50 percent of these revenues coming from outside North America. Visit us at www.kennametal.com