Product News: Machinery & Machining Tools
Drill and Tap Holders have sealed ball-lock design.
Press Release Summary: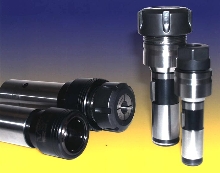 June 12, 2002 - Ball-lock drive technology provides fingertip control and tool changes as fast as 5 seconds. Six steel balls are mounted in spindle to retain and drive close-center drill holder. Balls fit into machined detents spaced 60° apart around drill holder base inside spindle, and provide balanced driving torque. Three O-ring seals prevent shell from gumming up due to contamination.
T.M. Smith Tool International Corp. - Mount Clemens, MI
Original Press Release
T.M. Smith Tool Introduces New Sealed Ball Lock Tool Holder Drive Technology
Press release date: June 4, 2002
Ball lock drive technology for tool holders was originally developed by T.M. Smith. The design provides fingertip control and tool changes as fast as 5 seconds. In a ball lock design, six steel balls are mounted in the spindle to retain and drive the close-center drill holder. The balls, which fit into machined detents spaced 60° apart around the base of the drill holder, are located relatively deep inside the spindle. To remove or install the drill holder, the operator simply pushes back on a knurled shell around the outside of the spindle end. This releases the balls, allowing them to retract to permit a collet style drill holder to be quickly installed in or removed from the spindle. The six balls spaced evenly around the inner diameter of the spindle provides balanced driving torque. This eliminates the problems associated with key driven designs where keys typically wear or come loose, inhibiting ease of tool changing. With these advantages, a ball lock drive system performs reliably even in situations that involve forces too high for key and keyway stability. One inherent problem associated with the ball lock drive is the fact that dirt, chips and coolant that can get into the unlocking shell causing it to gum up or stick closed. To inhibit this problem, T.M. Smith has introduced a "Sealed Ball Lock" design, Fig. 1, that uses (3) O-ring seals. There is one on each side of the OSA (over-the-spindle) adapter. The third one is against the OD of the tool holder to seal the system from the front, Fig. 2. Effectively, this new design keeps the corruption out of the ball locking area of the holder. Sealed Ball Lock is available in all T.M. Smith inch and metric ball lock tap and drill holder designs. T.M. Smith Tool International Corporation was founded in the 1957. It is a leader in the design and manufacture of quick-change tool holders for drilling, reaming and tapping. Overtime it has become well known, particularly in the worldwide automotive industry, for quality and innovative design and engineering. The company currently holds over 60 U.S. and international patents in tool holding technology. Send inquiries to:
Gerald R. Norton,
T.M. Smith Tool International Corp.
306 Hubbard Avenue
Mt. Clemens, MI 48046
Telephone (810) 468-1465
Fax (810) 468-2299
www.tmsmith.com