Product News: Test & Measuring Instruments, Sensors, Monitors & Transducers
DP Level Transmitter does not use impulse lines, capillary tubes.
Press Release Summary: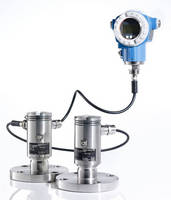 June 4, 2014 - Using Ceraphire ceramic sensor in pressure sensor modules, Deltabar FMD71 calculates differential pressure (DP) from 2 pressure sensor modules, each connected electronically to single transmitter, and transmits level, volume, or mass via 4–20 mA with HART as standard 2-wire, loop-powered device. Electronic system eliminates issues associated with impulse lines or capillaries, such as icing, clogging, leaks, condensation, and changing ambient temperatures.
Original Press Release
Endress+Hauser Announces Deltabar FMD71 DP Level Transmitter
Press release date: May 27, 2014
Level transmitter measures differential pressure without using troublesome impulse lines and capillary tubes.

Endress+Hauser introduces the Deltabar FMD71 level transmitter, which uses two pressure sensor modules, each connected electronically to a single transmitter. Using a Ceraphire ceramic sensor in the pressure sensor modules, the transmitter calculates the differential pressure from both sensors and transmits the level, volume or mass via 4-20 mA with HART as a standard two-wire loop-powered device.

One sensor module measures the hydrostatic pressure (HP) and the other one the head pressure (LP). Each sensor sends a digital signal corresponding to temperature compensated measured pressure to the transmitter. This electronic system eliminates issues of traditional differential pressure measurements by doing away with impulse lines or capillaries and their related issues of icing, clogging, leaks, condensation and changing ambient temperatures.

The sensors connect to the transmitter module via industry standard, color-coded twisted pair cable and have NEMA 4X/6P (IP66/IP68) watertight housings and connections. The transmitter can be located away from the sensors in areas safe and convenient for personnel. The system meets ATEX, IEC Ex, CSA and FM specifications for use in hazardous areas including Zones 0, 1 and 2; and Division 1 and 2.

The Ceraphire ceramic cell is vacuum, corrosion and abrasion resistant, eliminating traditional mechanical issues with corrosive and abrasive media. The Ceraphire ceramic cell can be used in absolute vacuum and has excellent chemical resistance properties, similar to Alloy C.

For applications where heavy environmental wash-down is a concern, the FMD71 automatically incorporates Endress+Hauser's dehydration module when a hygienic process connection is utilized. The dehydration module draws moisture from the ambient air inside the cell before it affects the sensor.

The FMD71 offers a standard 4-20mA HART capable output. The dP level measurement is the default 4-20mA signal while dP level, head pressure and sensor temperature can all be assigned as HART variables. Each sensor in the FMD71 system has 0.075% reference accuracy, maximum nominal pressure measurement of -15 to 600 psig, and a -40°F to 302°F process temperature capability.

The system has built-in diagnostics for continuous health indication via HART. Operators can access HART data via Endress+Hauser's FieldCare software or Field Xpert PDA.

For more detailed information about the Deltabar FMD71 Electronic Differential Pressure measurement system, go directly to the product page at: http://www.us.endress.com/electronic-dp.

About Endress+Hauser in the U.S.
Endress+Hauser is one of the largest instrument manufacturers in the United States' industrial automation industry – specializing in automation solutions for the Chemical, Food & Beverage, Oil & Gas, Water and Wastewater, Life Sciences, Power and Energy, Primaries, and Pulp and Paper Industries. Endress+Hauser, a Switzerland based company, first began operations in the U.S. in 1970. Since that time, Endress+Hauser has continued to invest in its U.S. operations - investing an average of 10% of its annual revenue into its infrastructure.

About the Endress+Hauser Group
Endress+Hauser is a global leader in measurement instrumentation, services and solutions for industrial process engineering. The Group employs 12,000 personnel across the globe, generating net sales of approximately $2.5 billion in 2013. Endress+Hauser supplies sensors, devices, systems and services for level, flow, pressure and temperature measurement as well as liquid analysis and measured value recording. The company supports its customers with automation, logistical and IT services and solutions. For more information, please visit www.us.endress.com.

Contact:
Crystal Hunt (Abrell)
Content Development Manager
Endress+Hauser, Inc.
Phone: 317-535-1306 (office)
317-439-6426 (mobile)
Fax: 317-535-2171
crystal.abrell@us.endress.com
www.us.endress.com