Product News: Fluid & Gas Flow Equipment
Down-Hole Pumps have progressive cavity design. .
Press Release Summary: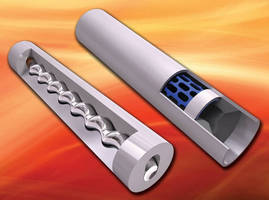 March 29, 2011 - Series of Moyno HTD(TM) High Temperature Down-Hole Pumps feature one-piece metal to metal stators designed for 1,200 m of lift. Mechanical bonding technology allows pumps to operate in temperatures up to 350°F, and additional advantage is ability to steam through stator in for Cyclic Steam Stimulation. Also suitable for Steam Assisted Gravity Drainage, pumps also incorporate elastomer technology that enables them to handle solids.
Original Press Release
Moyno® High Temperature Down-Hole Pump Solutions Extend the Application Range of Progressing Cavity Pumps
Press release date: March 23, 2011
Willis, Texas - R&M Energy Systems offers a line of innovative Moyno® High Temperature Down-Hole Pump Solutions. The Moyno high temperature down-hole pumps, designated Moyno HTD(TM) pumps, provide unique solutions to high temperature applications that previously prevented operators from using downhole progressing cavity pumps (PCPs). This technology allows R&M to provide solutions for artificial lift using Progressing Cavity Pumps (PCP's) in thermal applications. PCP's have not always been the ideal fit for thermal wells but with the advances in elastomers, bonding mechanisms and metal to metal technology, more producers are considering them as a means of artificial lift. They are an ideal fit for pilot applications or producing wells. Producers consider PCP's over other means of artificial lift such as ESP's due to lower capital costs. They are also an ideal fit for "wedge" wells in SAGD applications. A wedge well allows access to the unrecoverable bitumen that is located in between the well pairs. A PCP can be installed in this type of application due to the smaller surface footprint and the lower downhole temperatures compared to the producing wells. Advantages include:
o Mechanical bonding technology allows Moyno High Temperature Down-Hole Pumps to operate in temperatures up to 175°C (350°F)
o Ability to steam through the stator in a metal to metal design for CSS (Cyclic Steam Stimulation) as they are rated for 350°C (660°F)
o Metal to metal stators are all one piece, no welding involved
o Metal to metal pumping elements are designed for 1,200m of lift
o Metal to metal technology suitable for solvent injection applications (no elastomer concerns)
o Applications include CSS (Cyclic Steam Stimulation) and SAGD (Steam Assisted Gravity Drainage)
o Ability to handle solids with elastomer technology
o Lower capital cost over ESP systems
o Insertable application in some cases
o Small footprint compared to pump jack R&M Energy Systems, part of the Fluid Management Group of Robbins & Myers, Inc., manufactures and markets a wide variety of products for use in the discovery and recovery segments of the oil and gas industry. R&M Energy Systems' products include the following: Hamer® Line Blinds; Hercules® Wellheads, Valves, Stuffing Boxes, and artificial lift accessories; Magnum® Needle Valves; standard and customized Moyno® Down-Hole Pumps; Moyno® Guardian(TM) Variable Speed Drives; Moyno® Surface Pumps, Moyno® Tri-Phaze Systems; Moyno® and Moyno® ERT(TM) Power Sections; Moyno® HTD(TM) High Temperature Down-Hole Pumps; Moyno® ElectroFlo(TM) Generators; New Era® Rod Guides; Resun® Plug Valves; RODEC(TM) Tubing Rotators, artificial lift accessories and down-hole tools; StayTite® Swing Joints; Yale® Closures and Hammer Unions; and SENTRY® Closures. With facilities in the U.S., Belgium, Venezuela and Canada, R&M Energy Systems readily serves customers worldwide. R&M Energy Systems is part of the: Please forward Canadian reader service inquiries to Paul Dittrich, R&M Energy Systems Canada, 510 - 5th Street SW, Calgary, Alberta T2P 3S2, Phone: (403) 264-2995 Fax: (403) 264-2204 E-mail: fmg.marketing@robn.com Please forward U.S. reader service inquiries to Angel Santos, R&M Energy Systems, 10586 Highway 75 North, Willis, TX, 77378. Phone: (936) 890-1064 Fax: (936) 890-9595 E-mail: fmg.marketing@robn.com Company Address:
R&M Energy Systems
10586 Highway 75 North
Willis, TX, 77378
Phone: (936) 890-1064
Fax: (936) 890-9595
www.rmenergy.com