Product News: Fasteners & Hardware
DNV Certified Shackles meet needs of offshore industry.
Press Release Summary: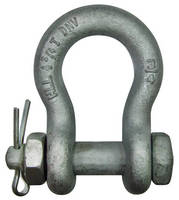 January 7, 2013 - DNV Type Approved and Certified carbon shackles feature galvanized coating for protective finish and exceeds Charpy V impact strength of ASTM A952 (31 lb-ft at -4°F). Assemblies, which consist of shackle body, bolt, nut, and cotter, comply with DNV rules for lifting appliances and are designed for use with chain, wire rope, and synthetic slings. All bolt and nut style anchor shackles meet DNV Standard 2.7-1 Offshore Containers specification, RR-C-271 and ISO 2415 performance requirements.
Columbus McKinnon Corp. - Getzville, NY
Original Press Release
CM Receives DNV Certification on Shackles
Press release date: January 4, 2013
AMHERST, N.Y. – Columbus McKinnon Corporation (NASDAQ: CMCO), a leading designer, manufacturer and marketer of material handling products is proud to announce its expanded offering of DNV Type Approved and Certified Shackles for the offshore industry.

A vital part of the Columbus McKinnon forging offering is our proven line of shackles. Columbus McKinnon has a long standing reputation for manufacturing the toughest shackles in the industry. From carbon shackles to the Super Strong shackle offering, CM has you covered for all you shackle requirements. This expanded line of DNV Type Approved and Certified carbon shackles continues our on-going effort to offer the best rigging solutions for every need; which includes meeting the stringent requirements of the offshore industry. The Bolt & Nut style anchor shackle is certified to meet DNV Standard 2.7-1 Offshore Containers specification, RR-C-271 and ISO 2415 performance requirements. For more information; please visit www.cmworks.com/dnvshackles.

Columbus McKinnon's line of rigging products is available through its network of rigging distributors. For a list of distributors, please contact customer service at 1-800-888-0985 or go to www.cmworks.com.

About Columbus McKinnon
Columbus McKinnon is a global leader in the material handling industry, supplying products and systems that efficiently and ergonomically move, lift, position or secure materials. Key products include hoists, cranes, actuators, chain and forged attachments. The Company is focused on commercial and industrial applications that require the safety and quality provided by its superior design and engineering know-how. Comprehensive information on Columbus McKinnon is available on its web site at http://www.cmworks.com.