DLS/Raman Spectrometer allows advanced protein structure analysis.
Press Release Summary: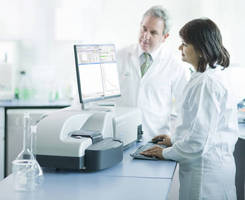 July 11, 2014 - Zetasizer Helix combines Zetasizer dynamic light scattering (DLS) technology, used for sizing of proteins and other biomolecules, with Raman spectroscopy, which enables monitoring of changes in secondary and tertiary protein structure, for early stage biopharmaceutical development. While minimizing required sample volume, combined functionality provides insight into protein folding, unfolding, aggregation, agglomeration, and oligomerization.
Malvern Instruments Ltd - Malvern Worcestershire, GBR
Original Press Release
Malvern Instruments' New Zetasizer Helix Combines Dynamic Light Scattering and Raman Spectroscopy for Advanced Protein Structure Analysis
Press release date: July 7, 2014
Malvern, UK:  The new Zetasizer Helix from Malvern Instruments is a powerful tool for early stage biopharmaceutical development that enables the detailed study of mechanisms of protein aggregation. This new system combines industry-leading Zetasizer dynamic light scattering (DLS) technology, for sizing of proteins and other biomolecules, with Raman spectroscopy. Raman spectroscopy enables monitoring of the changes in secondary and tertiary protein structure. The combination of DLS and Raman spectroscopy allows measurement of protein size and structure from a single small volume sample, providing unique insight into protein folding, unfolding, aggregation, agglomeration and oligomerization. Such detailed information supports both the effective application of Quality by Design and the efficient development of biosimilars.
Raman spectroscopy delivers information on protein unfolding by monitoring the variations in molecular vibrations that result from changes in secondary and tertiary protein structure. The combination of dynamic light scattering with Raman spectroscopy characterizes a wealth of chemical, structural, and physical parameters of biotherapeutic proteins under formulation conditions - at high concentrations up to 100 mg/ml and using a wide range of buffers and excipients. Parameters measured include: secondary and tertiary protein structure; melting temperature; onset temperature of aggregation; and transition enthalpy values; as well as aggregation propensity and protein solubility.
The Zetasizer Helix is the latest commercialized product to emerge from Malvern's Bioscience Development Initiative (BDI), a collaborative research program dedicated to providing solutions to the evolving needs of the biopharmaceutical industry. A key priority for the industry is obtaining a greater understanding and control over the formulation process, a need exacerbated by the increasing adoption of QbD. By allowing users to fully scope protein behavior within a formulation the Zetasizer Helix provides insight at the molecular level as to which variables trigger, for example, oligomerization and aggregation, supporting a QbD approach.
Find out more about how the Zetasizer Helix can help with protein characterization and the application of QbD within biopharmaceutical development at
www.malvern.com/zshelix
.
Malvern, Malvern Instruments and Zetasizer are registered trademarks of Malvern Instruments Ltd
About Malvern Instruments
Malvern provides the materials and biophysical characterization technology and expertise that enables scientists and engineers to understand and control the properties of dispersed systems. These systems range from proteins and polymers in solution, particle and nanoparticle suspensions and emulsions, through to sprays and aerosols, industrial bulk powders and high concentration slurries. Used at all stages of research, development and manufacturing, Malvern's materials characterization instruments provide critical information that helps accelerate research and product development, enhance and maintain product quality and optimize process efficiency.
Our products reflect Malvern's drive to exploit the latest technological innovations and our commitment to maximizing the potential of established techniques. They are used by both industry and academia, in sectors ranging from pharmaceuticals and biopharmaceuticals to bulk chemicals, cement, plastics and polymers, energy and the environment.
Malvern systems are used to measure particle size, particle shape, zeta potential, protein charge, molecular weight, mass, size and conformation, nanoparticle size and count, rheological properties and for chemical identification, advancing the understanding of dispersed systems across many different industries and applications.
Headquartered in Malvern, UK, Malvern Instruments has subsidiary organizations in all major European markets, North America, Mexico, China, Japan and Korea, a joint venture in India, a global distributor network and applications laboratories around the world.
www.malvern.com
For press information, please contact:
Trish Appleton, Kapler Communications
Phoenix House, Phoenix Park, Eaton Socon, Cambridgeshire, PE19 8EP, UK
Tel: +44 (0)1480 471059 
Fax: +44 (0)1480 471069 
trish.appleton@kapleronline.com
USA contact:
Marisa Fraser, Malvern Instruments Inc.
117 Flanders Road, Westborough, MA 01581-1042  USA
Tel:  +1 508 768 6400
Fax: +1 508 768 6403 
marisa.fraser@malvern.com
Please send sales enquiries to:
Alison Vines, Malvern Instruments Ltd
Enigma Business Park, Grovewood Road, Malvern, Worcestershire WR14 1XZ  UK
Tel: +44 (0) 1684 892456
Fax: +44 (0) 1684 892789
salesinfo@malvern.com
www.malvern.com