Product News: Controls & Controllers
Distributed Motion Controller increases robot cycle speeds.
Press Release Summary: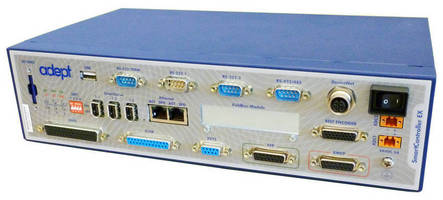 November 12, 2012 - Able to increase Adept robot cycle speeds by up to 5%, lead-free SmartController EX features Gigabit Ethernet, Adept eV+ software, and integral memory that supplements 2 GB SD memory card slot. Software, built around RTOS, is seamlessly backward compatible with V+ code and integrates with Adept's vision-guidance technology for optimal robotic performance. Backward compatible with CX controller, product comes with optional T20 Pendant that provides hand-held UI in ergonomic package.
Adept Technology, Inc. - Livermore, CA
Original Press Release
Adept Technology Introduces SmartController EX
Press release date: October 24, 2012
Adept Technology, Inc., a leading provider of intelligent robots and autonomous mobile solutions, introduces its new SmartController EX.  This lead-free, high-performance distributed motion controller, designed for use with Adept robots, features Gigabit Ethernet, a high-speed processor and new software, called Adept eV+. With more processing power and faster communication, the new SmartController EX can increase a robot's cycle speeds by up to five percent.

Adept is previewing SmartController EX at Pack Expo booth #S-1454 October 28-31, 2012. SmartController EX with ePLC is available immediately and the full-version SmartController EX will be launched on January 21, 2013 at Automate booth #354.

The Adept SmartController EX features Gigabit Ethernet and a processor that is 10 times more powerful than the previous generation. Four times more memory further enhances performance and the 2GB SD memory card slot adds functionality, allowing users to easily transfer data between controllers, capture log data and back up data to a PC. The controller's Adept eV+ software is completely new, based on modern technology and built around a robust real-time operating system. It is seamlessly backward compatible with V+ code and tightly integrates with Adept's vision-guidance technology for optimal robotic performance.

"The new SmartController EX combines powerful new hardware with entirely new software that benefits from the intellectual property accumulated over Adept's 25 year history as a robotic leader," said John Boutsikaris, Senior Vice President of Sales and Marketing. "This new controller will enhance the performance of the robots it controls. It also provides a solid foundation for future advancements."

Adept designed the SmartController EX for use with Cobra s-series SCARA robots, Viper six-axis robots, Quattro parallel robots and Python Linear Modules. It is backward compatible with Adept's CX controller – customers can use the same connectors and code and easily transition.

This initial launch of the new EX controller is limited to Adept's ePLC Connect Server software, which provides seamless connectivity with the customer's PLC. With ePLC, users program, operate and support their Adept robots through their PLC network. The familiar programming environment of the PLC, combined with an attractive price, makes this an affordable and easy-to-integrate control solution.

The SmartController EX comes with a new, optional T20 Pendant. This hand-held device provides a user interface in an ergonomic and rugged package. Designed for both right- and left-handed users, the gripping and holding positions enable comfortable, fatigue-free operation. Compared to previous generation pendants, the T20 is lighter and features a more colorful interface to ease use.

About Adept Technology, Inc.
Adept is a global, leading provider of intelligent robots and autonomous mobile solutions and services that enable customers to achieve precision, speed, quality and productivity in their assembly, handling, packaging, testing, and logistical processes. With a comprehensive portfolio of high-performance motion controllers, application development software, vision-guidance technology and high-reliability robot mechanisms with autonomous capabilities, Adept provides specialized, cost-effective robotics systems and services to high-growth markets including Packaging, Medical, Disk Drive/Electronics, and Solar; as well as to traditional industrial markets including machine tool automation and automotive components. More information is available at www.adept.com.

All trade names are either trademarks or registered trademarks of their respective holders.

Reader Inquiries:
John Boutsikaris
Adept Technology, Inc.
5960 Inglewood Dr.
Pleasanton, CA 94588  USA
Tel: 925 245 3400
Fax: 925 960 0452
john.boutsikaris@adept.com
www.adept.com