Product News: Packaging Products & Equipment
Disposable Tote Bin Covers feature metal detectable design.
Press Release Summary: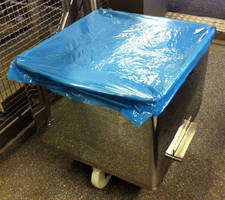 September 5, 2012 - Designed to minimize foreign body contamination in food manufacturing industry, Disposable Tote Bin Covers stretch over standard 200 and 300 liter stainless steel tote bins and provide hygienic tight seal. Covers are supplied on roll and are available in blue, red, yellow, and green with other colors available on request.
Original Press Release
Detectamet Launch New Food Safe Metal Detectable Disposable Tote Bin Covers On A Roll!
Press release date: August 31, 2012
Metal detectable disposable tote bin covers are the latest product development in the innovative and expanding range of detectable food safe products by Detectamet Ltd.
Following the development of a metal detectable food safe polythene, disposable detectable tote bin covers are the first release from a new range of industry leading products to be launched by Detectamet.
The launch of the new Detectamet Detectable tote bin cover, a result of Detectamet's extensive and continued investment into new product research, offers the global food manufacturing industry further reassurance in the quest to minimise foreign body contamination and instilling the use of all due-diligence.
The Detectamet tote bin covers easily stretch over standard 300 and 200 litre stainless steel tote bins and provide a hygienic tight seal minimising the risk of product contamination, with the essential benefit of being metal detectable.
The Detectamet range of tote bin covers are supplied on a roll and are currently available in blue, red, yellow & green with other colours available on request.
Detectamet Ltd are committed to providing metal detectable solutions for the food and pharmaceutical industries and this exciting development is part of it's ongoing strategy as market leaders in the development of new and pioneering detectable products for the global market.
For More information please contact:
Detectamet Limited
Unit 55, Halifax Way
Pocklington Industrial Estate
Pocklington
York
YO42 1NR
UK
Tel 0044 (0) 1759 304200
Fax 0044 (0) 1759 305236
Email s.smith@detectamet.com
Web
www.detectamet.co.uk